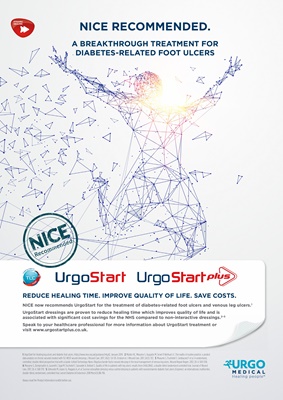 REDUCE HEALING TIME. IMPROVE QUALITY OF LIFE. SAVE COSTS.
NICE RECOMMENDED.
A BREAKTHROUGH TREATMENT FOR
DIABETES-RELATED FOOT ULCERS
NICE now recommends UrgoStart for the treatment of diabetes-related foot ulcers and venous leg ulcers.1
UrgoStart dressings are proven to reduce healing time which improves quality of life and is
associated with significant cost savings for the NHS compared to non-interactive dressings.2-5
Speak to your healthcare professional for more information about UrgoStart treatment or
visit www.urgostartplus.co.uk.
1. UrgoStart for treating leg ulcers and diabetic foot ulcers, https://www.nice.org.uk/guidance/mtg42, January 2019; 2. Münter KC, Meaume S, Augustin M, Senet P, Kérihuel J.C. The reality of routine practice: a pooled
data analysis on chronic wounds treated with TLC-NOSF wound dressings. J Wound Care. 2017; 26(2): S4-S15. Erratum in: J Wound Care. 2017; 26(3): 153; 3. Meaume S, Truchetet F, Cambazard F et al. A randomized,
controlled, double-blind prospective trial with a Lipido-Colloid Technology-Nano-OligoSaccharide Factor wound dressing in the local management of venous leg ulcers. Wound Repair Regen. 2012; 20: 4, 500-5114;
4. Meaume S, Dompmartin A, Lazareth I, Sigal M, Truchetet F, Sauvadet A, Bohbot S. Quality of life in patients with leg ulcers: results from CHALLENGE, a double-blind randomized controlled trial. Journal of Wound
Care. 2017; 26: 4, 368-379; 5. Edmonds M, Lázaro JL, Piaggesi A, et al. Sucrose octasulfate dressing versus control dressing in patients with neuroischaemic diabetic foot ulcers (Explorer): an international, multicentre,
double-blind, randomised, controlled trial. Lancet Diabetes & Endocrinol. 2018 Mar;6(3),186-196.
Always read the Product Information Leaflet before use.