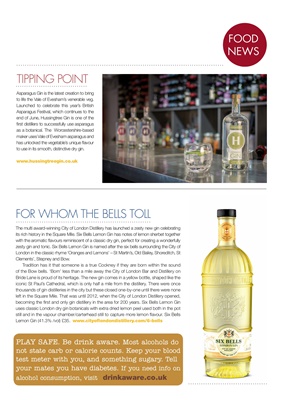 KITLIVING
TIPPING POINT
Asparagus Gin is the latest creation
to bring to life the Vale of Evesham's
venerable veg. Launched to celebrate this
year's British Asparagus Festival, which
continues to the end of June, Hussingtree
Gin has been one of the amongst the first
distillers to successfully use asparagus as
a botanical. The Worcestershire-based
maker uses Vale of Evesham asparagus
and have unlocked the vegetable's unique
flavour to use in its smooth, distinctive dry
gin.
FOR WHOM THE BELLS TOLL
The multi award-winning City of London Distillery has launched a zesty new gin celebrating
its rich history in the Square Mile. Six Bells Lemon Gin has notes of lemon sherbet together
with the aromatic flavours reminiscent of a classic dry gin, perfect for creating a wonderfully
zesty gin and tonic. Six Bells Lemon Gin is named after the six bells surrounding the City of
London in the classic rhyme 'Oranges and Lemons' - St Martin's, Old Bailey, Shoreditch, St
Clements', Stepney and Bow.
Tradition has it that someone is a true Cockney if they are born within the sound
of the Bow bells. 'Born' less than a mile away the City of London Bar and Distillery on
Bride Lane is proud of its heritage. The new gin comes in a yellow bottle, shaped like the
iconic St Paul's Cathedral, which is only half a mile from the distillery. There were once
thousands of gin distilleries in the city but these closed one-by-one until there were none
left in the Square Mile. That was until 2012, when the City of London Distillery opened,
becoming the first and only gin distillery in the area for 200 years. Six Bells Lemon Gin
uses classic London dry gin botanicals with extra dried lemon peel used both in the pot
still and in the vapour chamber/carterhead still to capture more lemon flavour. Six Bells
Lemon Gin (41.3% /vol) £35. www.cityoflondondistillery.com/6-bells
FOOD
NEWS
PLAY SAFE. Be drink aware. Most alcohols do
not state carb or calorie counts. Keep your blood
test meter with you, and something sugary. Tell
your mates you have diabetes. If you need information
on alcohol consumption, visit