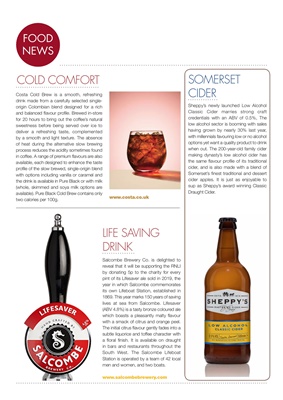 LIVINGLIVING
SOMERSET
CIDER
Sheppy's newly launched Low Alcohol
Classic Cider marries strong craft
credentials with an ABV of 0.5%, The
low alcohol sector is booming with sales
having grown by nearly 30% last year,
with millennials favouring low or no alcohol
options yet want a quality product to drink
when out. The 200-year-old family cider
making dynasty's low alcohol cider has
the same flavour profile of its traditional
cider, and is also made with a blend of
Somerset's finest traditional and dessert
cider apples. It is just as enjoyable to
sup as Sheppy's award winning Classic
Draught Cider.
COLD COMFORT
Costa Cold Brew is a smooth, refreshing
drink made from a carefully selected singleorigin Colombian blend designed for a rich
and balanced flavour profile. Brewed in-store
for 20 hours to bring out the coffee's natural
sweetness before being served over ice to
deliver a refreshing taste, complemented
by a smooth and light texture. The absence
of heat during the alternative slow brewing
process reduces the acidity sometimes found
in coffee. A range of premium flavours are also
available, each designed to enhance the taste
profile of the slow brewed, single-origin blend
with options including vanilla or caramel and
the drink is available in Pure Black or with milk
(whole, skimmed and soya milk options are
available). Pure Black Cold Brew contains only
two calories per 100g.
LIFE SAVING
DRINK
FOOD
NEWS
Salcombe Brewery Co. is delighted to
reveal that it will be supporting the RNLI
by donating 5p to the charity for every
pint of its Lifesaver ale sold in 2019, the
year in which Salcombe commemorates
its own Lifeboat Station, established in
1869. This year marks 150 years of saving
lives at sea from Salcombe. Lifesaver
(ABV4.8%) is a tasty bronze coloured ale
which boasts a pleasantly malty flavour
with a smack of citrus and orange peel.
The initial citrus flavour gently fades into a
subtle liquorice and toffee character with
a floral finish. It is available on draught
in bars and restaurants throughout the
South West. The Salcombe Lifeboat
Station is operated by a team of 42 local
men and women, and two boats.