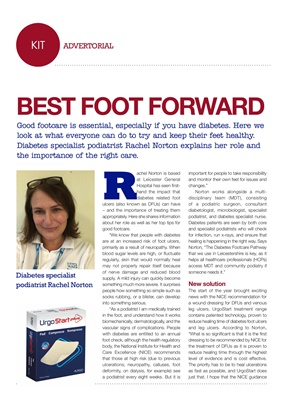 KIT
BEST FOOT FORWARD
Good footcare is essential, especially if you have diabetes. Here
we look at what everyone can do to try and keep their feet
healthy and ulcer free. Diabetes specialist podiatrist Rachel Norton
explains her role and the importance of the right care.
R
achel Norton is based
at Leicester General
Hospital has seen
first-hand the impact
that diabetes related
foot ulcers (also known as DFUs) can
have - and the importance of treating
them appropriately. Here she shares
information about her role as we as her
top tips for good footcare.
"We know that people with diabetes
are at an increased risk of foot ulcers,
primarily as a result of neuropathy. When
blood sugar levels are high, or fluctuate
regularly, skin that would normally heal
may not properly repair itself because
of nerve damage and reduced blood
supply. A mild injury can quickly become
something much more severe. It surprises
people how something so simple such as
socks rubbing, or a blister, can develop
into something serious.
"As a podiatrist I am medically trained
in the foot, and understand how it works
biomechanically, dermatologically, and the
vascular signs of complications. People
with diabetes are entitled to an annual
foot check, although the health regulatory
body, the National Institute for Health and
Care Excellence (NICE) recommends
that those at high risk (due to previous
ulcerations, neuropathy, calluses, foot
deformity, on dialysis, for example) see
a podiatrist every eight weeks. But it is
important for people to take responsibility
and monitor their own feet for issues and
changes."
Norton works alongside a multidisciplinary
team (MDT), consisting
of a podiatric surgeon, consultant
diabetologist, microbiologist, specialist
podiatrist, and diabetes specialist nurse.
Diabetes patients are seen by both core
and specialist podiatrists who will check
for infection, run x-rays, and ensure that
healing is happening in the right way. Says
Norton, "The Diabetes Footcare Pathway
that we use in Leicestershire is key, as it
helps all healthcare professionals (HCPs)
access MDT and community podiatry if
someone needs it."
New solution
The start of the year brought exciting
news with the NICE recommendation for
a wound dressing for DFUs and venous
leg ulcers. UrgoStart treatment range
contains patented technology, proven to
reduce healing time of diabetes foot ulcers
and leg ulcers. According to Norton,
"What is so significant is that it is the first
dressing to be recommended by NICE for
the treatment of DFUs as it is proven to
reduce healing time through the highest
level of evidence and is cost effective.
The priority has to be to heal ulcerations
as fast as possible, and UrgoStart does
just that. I hope that the NICE guidance
Diabetes specialist
podiatrist Rachel Norton
ADVERTORIAL