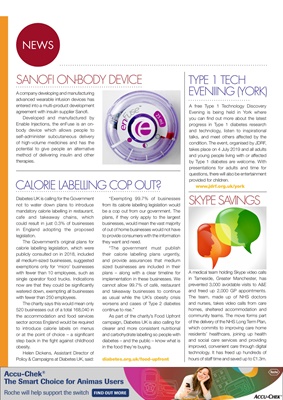 NEWS
SANOFI ON-BODY DEVICE TYPE 1 TECH
EVENIING (YORK)
SKYPE SAVINGS
A company developing and manufacturing
advanced wearable infusion devices has
entered into a multi-product development
agreement with insulin supplier Sanofi.
Developed and manufactured by
Enable Injections, the enFuse is an onbody
device which allows people to
self-administer subcutaneous delivery
of high-volume medicines and has the
potential to give people an alternative
method of delivering insulin and other
therapies.
Diabetes UK is calling for the Government
not to water down plans to introduce
mandatory calorie labelling in restaurant,
cafe and takeaway chains, which
could result in just 0.3% of businesses
in England adopting the proposed
legislation.
The Government's original plans for
calorie labelling legislation, which were
publicly consulted on in 2018, included
all medium-sized businesses, suggested
exemptions only for 'micro' businesses
with fewer than 10 employees, such as
single operator food trucks. Indications
now are that they could be significantly
watered down, exempting all businesses
with fewer than 250 employees.
The charity says this would mean only
520 businesses out of a total 168,040 in
the accommodation and food services
sector across England would be required
to introduce calorie labels on menus
or at the point of choice - a significant
step back in the fight against childhood
obesity.
Helen Dickens, Assistant Director of
Policy & Campaigns at Diabetes UK, said:
"Exempting 99.7% of businesses
from its calorie labelling legislation would
be a cop out from our government. The
plans, if they only apply to the largest
businesses, would mean the vast majority
of out of home businesses would not have
to provide consumers with the information
they want and need.
"The government must publish
their calorie labelling plans urgently,
and provide assurances that medium
sized businesses are included in their
plans - along with a clear timeline for
implementation in these businesses. We
cannot allow 99.7% of café, restaurant
and takeaway businesses to continue
as usual while the UK's obesity crisis
worsens and cases of Type 2 diabetes
continue to rise."
As part of the charity's Food Upfront
campaign, Diabetes UK is also calling for
clearer and more consistent nutritional
and carbohydrate labelling so people with
diabetes - and the public - know what is
in the food they're buying.
diabetes.org.uk/food-upfront
CALORIE LABELLING COP OUT?
A free Type 1 Technology Discovery
Evening is being held in York where
you can find out more about the latest
progress in Type 1 diabetes research
and technology, listen to inspirational
talks, and meet others affected by the
condition. The event, organised by JDRF,
takes place on 4 July 2019 and all adults
and young people living with or affected
by Type 1 diabetes are welcome. With
presentations for adults and time for
questions, there will also be entertainment
provided for children.
A medical team holding Skype video calls
in Tameside, Greater Manchester, has
prevented 3,000 avoidable visits to A&E
and freed up 2,000 GP appointments.
The team, made up of NHS doctors
and nurses, takes video calls from care
homes, sheltered accommodation and
community teams. The move forms part
of the delivery of the NHS Long Term Plan,
which commits to improving care home
residents' healthcare, joining up health
and social care services and providing
improved, convenient care through digital
technology. It has freed up hundreds of
hours of staff time and saved up to £1.3m.