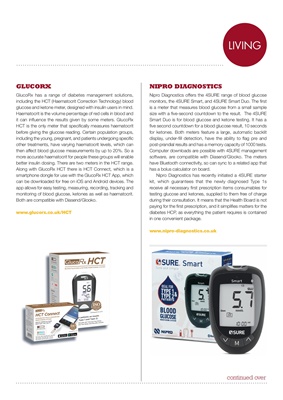 KITLIVING
continued over
NIPRO DIAGNOSTICS
Nipro Diagnostics offers the 4SURE range of blood glucose
monitors, the 4SURE Smart, and 4SURE Smart Duo. The first
is a meter that measures blood glucose from a small sample
size with a five-second countdown to the result. The 4SURE
Smart Duo is for blood glucose and ketone testing. It has a
five second countdown for a blood glucose result, 10 seconds
for ketones. Both meters feature a large, automatic backlit
display, under-fill detection, have the ability to flag pre and
post-prandial results and has a memory capacity of 1000 tests.
Computer downloads are possible with 4SURE management
software, are compatible with Diasend/Glooko. The meters
have Bluetooth connectivity, so can sync to a related app that
has a bolus calculator on board.
Nipro Diagnostics has recently initiated a 4SURE starter
kit, which guarantees that the newly diagnosed Type 1s
receive all necessary first prescription items consumables for
testing glucose and ketones, supplied to them free of charge
during their consultation. It means that the Health Board is not
paying for the first prescription, and it simplifies matters for the
diabetes HCP, as everything the patient requires is contained
in one convenient package.
GLUCORX
GlucoRx has a range of diabetes management solutions,
including the HCT (Haematocrit Correction Technology) blood
glucose and ketone meter, designed with insulin users in mind.
Haematocrit is the volume percentage of red cells in blood and
it can influence the results given by some meters. GlucoRx
HCT is the only meter that specifically measures haematocrit
before giving the glucose reading. Certain population groups,
including the young, pregnant, and patients undergoing specific
other treatments, have varying haematocrit levels, which can
then affect blood glucose measurements by up to 20%. So a
more accurate haematocrit for people these groups will enable
better insulin dosing. There are two meters in the HCT range.
Along with GlucoRx HCT there is HCT Connect, which is a
smartphone dongle for use with the GlucoRx HCT App, which
can be downloaded for free on iOS and Android devices. The
app allows for easy testing, measuring, recording, tracking and
monitoring of blood glucose, ketones as well as haematocrit.
Both are compatible with Diasend/Glooko.