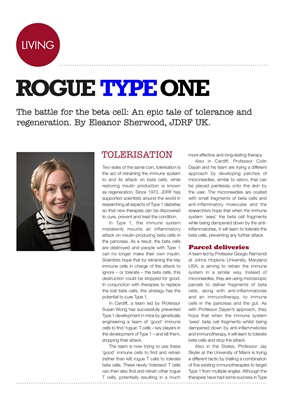 LIVINGLIVING
ROGUE TYPE ONE
TOLERISATION
Two sides of the same coin, tolerisation is
the act of retraining the immune system
to end its attack on beta cells, while
restoring insulin production is known
as regeneration. Since 1970, JDRF has
supported scientists around the world in
researching all aspects of Type 1 diabetes
so that new therapies can be discovered
to cure, prevent and treat the condition.
In Type 1, the immune system
mistakenly mounts an inflammatory
attack on insulin-producing beta cells in
the pancreas. As a result, the beta cells
are destroyed and people with Type 1
can no longer make their own insulin.
Scientists hope that by retraining the key
immune cells in charge of the attack to
ignore - or tolerate - the beta cells, this
destruction could be stopped for good.
In conjunction with therapies to replace
the lost beta cells, this strategy has the
potential to cure Type 1.
In Cardiff, a team led by Professor
Susan Wong has successfully prevented
Type 1 development in mice by genetically
engineering a team of 'good' immune
cells to find 'rogue' T cells - key players in
the development of Type 1 - and kill them,
stopping their attack.
The team is now trying to use these
'good' immune cells to find and retrain
(rather than kill) rogue T cells to tolerate
beta cells. These newly 'tolerised' T cells
can then also find and retrain other rogue
T cells, potentially resulting in a much
more effective and long-lasting therapy.
Also in Cardiff, Professor Colin
Dayan and his team are trying a different
approach by developing patches of
microneedles, similar to velcro, that can
be placed painlessly onto the skin by
the user. The microneedles are coated
with small fragments of beta cells and
anti-inflammatory molecules and the
researchers hope that when the immune
system 'sees' the beta cell fragments
while being dampened down by the antiinflammatories, it
will learn to tolerate the
beta cells, preventing any further attack.
Parcel deliveries
A team led by Professor Giorgio Raimondi
at Johns Hopkins University, Maryland
USA, is aiming to retrain the immune
system in a similar way. Instead of
microneedles, they are using microscopic
parcels to deliver fragments of beta
cells, along with anti-inflammatories
and an immunotherapy, to immune
cells in the pancreas and the gut. As
with Professor Dayan's approach, they
hope that when the immune system
'sees' beta cell fragments whilst being
dampened down by anti-inflammatories
and immunotherapy, it will learn to tolerate
beta cells and stop the attack.
Also in the States, Professor Jay
Skyler at the University of Miami is trying
a different tactic by trialling a combination
of five existing immunotherapies to target
Type 1 from multiple angles. Although the
therapies have had some success in Type
The battle for the beta cell: An epic tale of tolerance and
regeneration. By Eleanor Sherwood, JDRF UK.