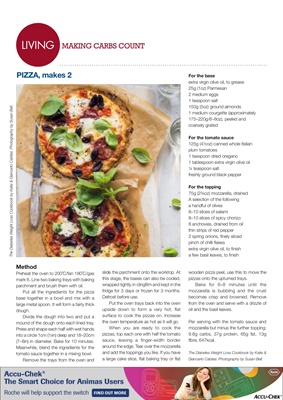 LIVINGLIVING
The Diabetes Weight Loss Cookbook by Katie & Giancarlo Caldesi. Photography by Susan Bell. PIZZA, makes 2 For the base
extra virgin olive oil, to grease
25g (1oz) Parmesan
2 medium eggs
1 teaspoon salt
150g (5oz) ground almonds
1 medium courgette (approximately
175-220g/6-8oz), peeled and
coarsely grated
For the tomato sauce
125g (4½oz) canned whole Italian
plum tomatoes
1 teaspoon dried oregano
1 tablespoon extra virgin olive oil
¼ teaspoon salt
freshly ground black pepper
For the topping
75g (2¾oz) mozzarella, drained
A selection of the following
a handful of olives
8-10 slices of salami
8-10 slices of spicy chorizo
8 anchovies, drained from oil
thin strips of red pepper
2 spring onions, finely sliced
pinch of chilli flakes
extra virgin olive oil, to finish
a few basil leaves, to finish
MAKING CARBS COUNT
Method
Preheat the oven to 200˚C/fan 180˚C/gas
mark 6. Line two baking trays with baking
parchment and brush them with oil.
Put all the ingredients for the pizza
base together in a bowl and mix with a
arge metal spoon. It will form a fairly thick
dough.
Divide the dough into two and put a
mound of the dough onto each lined tray.
Press and shape each half with wet hands
into a circle 1cm (½in) deep and 18-20cm
(7-8in) in diameter. Bake for 10 minutes.
Meanwhile, blend the ingredients for the
tomato sauce together in a mixing bowl.
Remove the trays from the oven and
slide the parchment onto the worktop. At
this stage, the bases can also be cooled,
wrapped tightly in clingfilm and kept in the
fridge for 3 days or frozen for 3 months.
Defrost before use.
Put the oven trays back into the oven
upside down to form a very hot, flat
surface to cook the pizzas on. Increase
the oven temperature as hot as it will go.
When you are ready to cook the
pizzas, top each one with half the tomato
sauce, leaving a finger-width border
around the edge. Tear over the mozzarella
and add the toppings you like. If you have
a large cake slice, flat baking tray or flat
wooden pizza peel, use this to move the
pizzas onto the upturned trays.
Bake for 6-8 minutes until the
mozzarella is bubbling and the crust
becomes crisp and browned. Remove
from the oven and serve with a drizzle of
oil and the basil leaves.
Per serving with the tomato sauce and
mozzarella but minus the further topping:
9.8g carbs, 37g protein, 65g fat, 13g
fibre, 647kcal.
The Diabetes Weight Loss Cookbook by Katie &
Giancarlo Caldesi. Photography by Susan Bell.