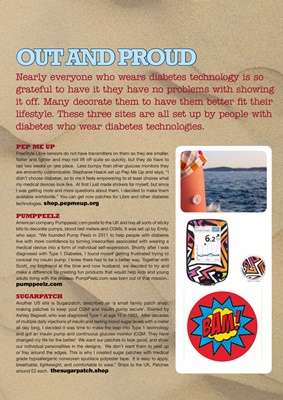 PEP ME UP
FreeStyle Libre sensors do not have transmitters on them so they are smaller,
flatter and lighter and may not lift off quite so quickly, but they do have to
last two weeks on one place. Less bumpy than other glucose monitors they
are eminently customizable. Stephanie Haack set up Pep Me Up and says, "I
didn't choose diabetes, so to me it feels empowering to at least choose what
my medical devices look like. At first I just made stickers for myself, but since
I was getting more and more questions about them, I decided to make them
available worldwide." You can get now patches for Libre and other diabetes
technologies. shop.pepmeup.org
PUMPPEELZ
American company Pumppeelz.com posts to the UK and has all sorts of sticky
bits to decorate pumps, blood test meters and CGMs. It was set up by Emily,
who says: "We founded Pump Peelz in 2011 to help people with diabetes
live with more confidence by turning insecurities associated with wearing a
medical device into a form of individual self-expression. Shortly after I was
diagnosed with Type 1 Diabetes, I found myself getting frustrated trying to
conceal my insulin pump. I knew there had to be a better way. Together with
Scott, my boyfriend at the time and now husband, we decided to try and
make a difference by creating fun products that would help kids and young
adults living with the disease. PumpPeelz.com was born out of that mission.:
pumppeelz.com
SUGARPATCH
Another US site is Sugarpatch, described as 'a small family patch shop,
making patches to keep your CGM and insulin pump secure'. Started by
Ashley Bagwell, who was diagnosed Type 1 at age 15 in 1983. After decades
of multiple daily injections of insulin and testing blood sugar levels with a meter
all day long, I decided it was time to make the leap into Type 1 technology
and got an insulin pump and continuous glucose monitor (CGM. They have
changed my life for the better! We want our patches to look good, and show
our individual personalities in the designs. We don't want them to peel up
or fray around the edges. This is why I created sugar patches with medical
grade hypoallergenic nonwoven spunlace polyester tape. It is easy to apply,
breathable, lightweight, and comfortable to wear." Ships to the UK. Patches
around £2 each. thesugarpatch.shop
OUT AND PROUD
Nearly everyone who wears diabetes technology is so
grateful to have it they have no problems with showing
it off. Many decorate them to have them better fit their
lifestyle. These three sites are all set up by people with
diabetes who wear diabetes technologies.