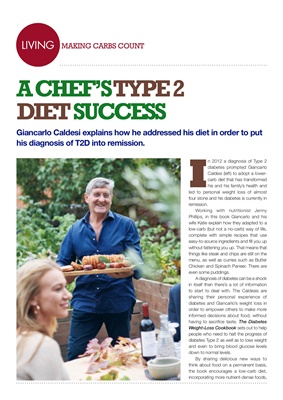 LIVINGLIVING MAKING CARBS COUNT
Giancarlo Caldesi explains how he addressed his diet in order to put
his diagnosis of T2D into remission.
A CHEF'S TYPE 2
DIET SUCCESS In 2012 a diagnosis of Type 2
diabetes prompted Giancarlo
Caldesi (left) to adopt a lowercarb diet that has transformed
his and his family's health and
led to personal weight loss of almost
four stone and his diabetes is currently in
remission.
Working with nutritionist Jenny
Phillips, in this book Giancarlo and his
wife Katie explain how they adapted to a
low-carb (but not a no-carb) way of life,
complete with simple recipes that use
easy-to-source ingredients iand fill you up
without fattening you up. That means that
things like steak and chips are still on the
menu, as well as curries such as Butter
Chicken and Spinach Paneer. There are
even some puddings.
A diagnosis of diabetes can be a shock
in itself then there's a lot of information
to start to deal with. The Caldesis are
sharing their personal experience of
diabetes and Giancarlo's weight loss in
order to empower others to make more
informed decisions about food, without
having to sacrifice taste. The Diabetes
Weight-Loss Cookbook sets out to help
people who need to halt the progress of
diabetes Type 2 as well as to lose weight
and even to bring blood glucose levels
down to normal levels.
By sharing delicious new ways to
think about food on a permanent basis,
the book encourages a low-carb diet,
incorporating more nutrient-dense foods,