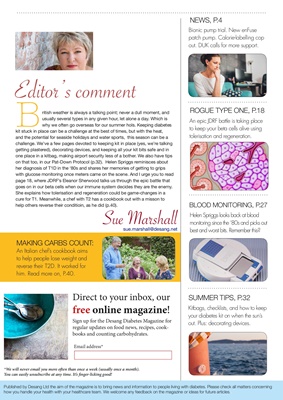 Published by Desang Ltd the aim of the magazine is to bring news and information to people living with diabetes. Please check all matters concerning
how you handle your health with your healthcare team. We welcome any feedback on the magazine or ideas for future articles..
Sue Marshall
It's quite a big issue, wEditor's comment
We say nothing beats a blood test,
so read Part 1of our update and
overview to find out why.
BLOOD TEST METERS, P.22
MyGrams, from T1D Daniel Blauer,
is a way to weigh your food using
your mobile phone. Honest!
Find out about teff, a tough little
grain that is also good for you, if
you know how to handle it. Read
more on, P.34.
MAKING CARBS COUNT:
Direct to your inbox, our
free online magazine!
Sign up for the Desang Diabetes Magazine for
regular updates on food news, recipes, cookbooks
and counting carbohydrates.
Email address*
*We will never email you more often than once a week (usually once a month).
You can easily unsubscribe at any time. It's finger-licking good!
NEWS, P.4
Kaleido launches in the UK; Talking About Diabetes goes on tour;
Why diabetes networks work.
KIT COMING SOON, P.32
An update on various diabetes
medications, for both Type 1s and
2s, both injections and tablets.
WELL TREATED, P.28