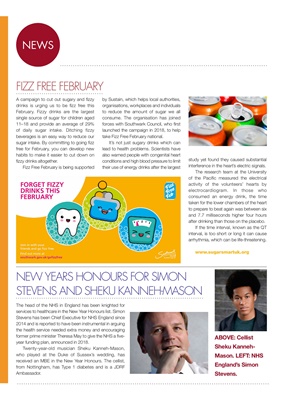 NEWS
A campaign to cut out sugary and fizzy
drinks is urging us to be fizz free this
February. Fizzy drinks are the largest
single source of sugar for children aged
11-18 and provide an average of 29%
of daily sugar intake. Ditching fizzy
beverages is an easy way to reduce our
sugar intake. By committing to going fizz
free for February, you can develop new
habits to make it easier to cut down on
fizzy drinks altogether.
FIZZ FREE FEBRUARY Fizz Free February is being supported
by Sustain, which helps local authorities,
organisations, workplaces and individuals
to reduce the amount of sugar we all
consume. The organisation has joined
forces with Southwark Council, who first
launched the campaign in 2018, to help
take Fizz Free February national.
It's not just sugary drinks which can
lead to health problems. Scientists have
also warned people with congenital heart
The head of the NHS in England has been
knighted for services to healthcare in the
New Year Honours list.
Simon Stevens has been Chief
Executive for NHS England since 2014
and is reported to have been instrumental
in arguing the health service needed extra
money and credited with encouraging
former prime minister Theresa May to give
the NHS a five-year funding plan, which
was announced in 2018.
Meanwhile, 20-year-old musician
Sheku Kanneh-Mason, who played at the
Duke of Sussex's wedding, has received
an MBE in the New Year Honours.
The cellist, from Nottingham, has Type
1 diabetes and a JDRF Ambassador.
NEW YEARS HONOURS
FOR SIMON AND SHEKU
Cellist Sheku Kanneh-Mason.
NHS England's Simon Stevens.
conditions and high blood pressure to limit
their use of energy drinks after the largest
study yet found they caused substantial
interference in the heart's electric signals.
The research team at the University
of the Pacific measured the electrical
activity of the volunteers' hearts by
electrocardiogram. In those who
consumed an energy drink, the time
taken for the lower chambers of the heart
to prepare to beat again was between six
and 7.7 milliseconds higher four hours
after drinking than those on the placebo.
If the time interval, known as the QT
interval, is too short or long it can cause
arrhythmia, which can be life-threatening.