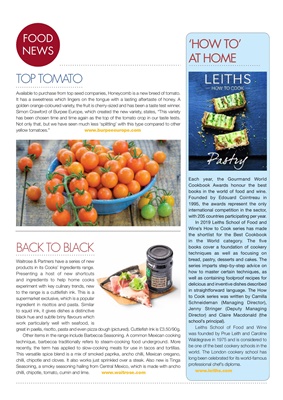 LIVINGLIVING
FOOD
NEWS
BACK TO BLACK
Each year, the Gourmand World
Cookbook Awards honour the best
books in the world of food and wine.
Founded by Edouard Cointreau in
1995, the awards represent the only
international competition in the sector,
with 205 countries participating per year.
In 2019 Leiths School of Food and
Wine's How to Cook series has made
the shortlist for the Best Cookbook
in the World category. The five
books cover a foundation of cookery
techniques as well as focusing on
bread, pastry, desserts and cakes. The
series imparts step-by-step advice on
how to master certain techniques, as
well as containing foolproof recipes for
delicious and inventive dishes described
in straightforward language. The How
to Cook series was written by Camilla
Schneideman (Managing Director),
Jenny Stringer (Deputy Managing
Director) and Claire Macdonald (the
school's principal).
Leiths School of Food and Wine
was founded by Prue Leith and Caroline
Waldegrave in 1975 and is considered to
be one of the best cookery schools in the
world. The London cookery school has
long been celebrated for its world-famous
professional chef's diploma.
'HOW TO'
AT HOME
TOP TOMATO
Waitrose & Partners have a series of new
products in its Cooks' Ingredients range.
Presenting a host of new shortcuts
and ingredients to help home cooks
experiment with key culinary trends, new
to the range is a cuttlefish ink. This is a
supermarket exclusive, which is a popular
ingredient in risottos and pasta. Similar
to squid ink, it gives dishes a distinctive
black hue and subtle briny flavours which
work particularly well with seafood, is
great in paella, risotto, pasta and even pizza dough (pictured). Cuttlefish Ink is £3.50/90g.
Other items in the range include Barbecoa Seasoning. A common Mexian cooking
technique, barbecoa traditionally refers to steam-cooking food underground. More
recently, the term has applied to slow-cooking meats for use in tacos and tortillas.
This versatile spice blend is a mix of smoked paprika, ancho chilli, Mexican oregano,
chilli, chipotle and cloves. It also works just sprinkled over a steak. Also new is Tinga
Seasoning, a smoky seasoning hailing from Central Mexico, which is made with ancho
chilli, chipotle, tomato, cumin and lime.
Available to purchase from top seed companies, Honeycomb is a new breed of tomato
has a sweetness which lingers on the tongue with a lasting aftertaste of honey. A golden
orange-coloured variety, the fruit is cherry-sized and has been a taste test winner. Simon
Crawford of Burpee Europe, which created the new variety, states, "This variety has
been chosen time and time again as the top of the tomato crop in our taste tests. Not
only that, but we have seen much less 'splitting' with this type compared to other yellow
tomatoes."