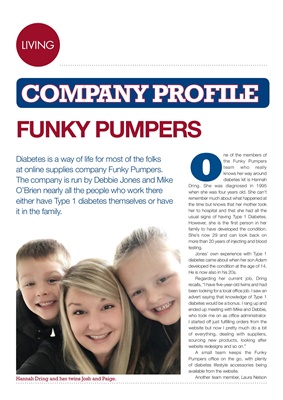 LIVINGLIVING
O
ne of the members of
the Funky Pumpers
team who really
knows her way around
diabetes kit is Hannah
Dring. She was diagnosed in 1995
when she was four years old. She can't
remember much about what happened at
the time but knows that her mother took
her to hospital and that she had all the
usual signs of having Type 1 Diabetes.
However, she is the first person in her
family to have developed the condition.
She's now 29 and can look back on
more than 20 years of injecting and blood
testing.
Jones' own experience with Type 1
diabetes came about when her son Adam
developed the condition at the age of 14.
He is now also in his 20s.
Regarding her current job, Dring
recalls, "I have five-year-old twins and had
been looking for a local office job. I saw an
advert saying that knowledge of Type 1
diabetes would be a bonus. I rang up and
ended up meeting with Mike and Debbie,
who took me on as office administrator.
I started off just fulfilling orders from the
website but now I pretty much do a bit
of everything, dealing with suppliers,
sourcing new products, looking after
website redesigns and so on."
A small team keeps the Funky
Pumpers office on the go, with plenty
of diabetes lifestyle accessories being
available from the website.
Another team member, Laura Nelson
COMPANY PROFILE
FUNKY PUMPERS
Diabetes is a way of life for most of the folks
at online supplies company Funky Pumpers.
The company is run by Debbie Jones and Mike
O'Brien nearly all the people who work there
either have Type 1 diabetes themselves or have it
in the family.
Hannah Dring and her twins Josh and Paige.