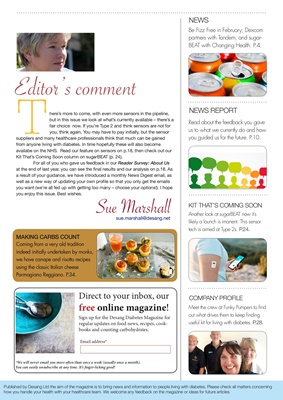 Published by Desang Ltd the aim of the magazine is to bring news and information to people living with diabetes. Please check all matters concerning
how you handle your health with your healthcare team. We welcome any feedback on the magazine or ideas for future articles..
Sue Marshall
There's more to come, with even more sensors in the pipeline,
but this issue we look at what's currently available -- there's a
fair choice now. If you're Type 2 and think sensors are not for
you, think again, You may have to pay initially, but the sensor
suppliers and many healthcare professionals think that much can be gained
from anyone living with diabetes. In time hopefully these will also become
availabe on the NHS. Read our feature on sensors on p.tk , then check out our
Kit That's Coming Soon column on sugarBEAT (p. tk).
For all of you who gave us feedback in our Reader Survey: About Us
at the end of last year, you can see the final results and our analysis on p.18.
As a result of your guidance, we have introduced a monthly News Digest email,
and as a result have a new way of updating your own profile so that you only
get the emails you want to (we're all fed up with getting too many - choose
your options!). I hope you enjoy this issue. Best wishes.
Editor's comment
Another look at sugarBEAT now it's
likely a launch is imanent. This sensor
tech is aimed at Type 2s. P.40.
KIT THAT'S COMING SOON
NEWS
Be Fizz Free in February; Dexcom
partners with Tandem, and sugarBEAT
with Changing Health. P.4.
Read about the feedback you gave
us to what we currently do and how
you guided us for the future. P.18.
NEWS REPORT
Meet the crew at Funky Pumpers to find
out what drives them to keep finding
useful kit for living with diabetes. P.40.
COMPANY PROFILE
Coming from a very old tradition
indeed initially undertaken by monks,
we have canape and risotto recipes
using the classic Italian cheese
Parmagiano Reggiano.
MAKING CARBS COUNT, P.40.