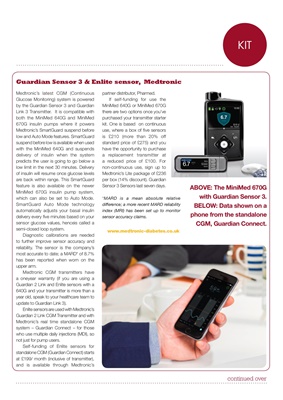 KIT
ENLITE, Medtronic
Medtronic's CGM (Continuous Glucose
Monitoring) system, powered by Guardian
Sensor 3 and Guardian Link 3 Transmitter.
Medtronic's latest CGM system is
compatible with both its MiniMed 640G
and MiniMed 670G insulin delivery
systems. The latter drives Medtronic's
SmartGuard suspend before low and
Auto Mode feature. SmartGuard is a
low glucose suspend feature designed
to help people who may have a fear
of hypoglycaemia or hypoglycaemia
unawareness. This suspension of insulin
delivery can be set for when the glucose
levels are predicted to hit the low limit in
the next 30 minutes or set to when the
glucose levels hit the low limit. With the
MiniMed 670G Insulin Pump System
SmartGuard can be set to Auto Mode,
a technology automatically adjusts your
basal insulin delivery based on your sensor
glucose (SG) values (i.e. is a 'closed loop'
system).
Diagnostic calibrations are needed
to further improve sensor accuracy and
reliability. The sensor is the company's
most accurate to date; a MARD* of 8.7%
has been reported when worn on the
upper arm.
The Guardian Link 3 is compatible
with the Guardian Sensor 3 and powers
SmartGuard on both the MiniMed 640G
and MiniMed 670G systems. Medtronic
CGM transmitters have a one-year
warranty (if you are using a Guardian
2 Link with Enlite sensors and your
transmitter is more than a year old, speak
to your healthcare team to update to
Guardian Link 3).
Enlite sensors are used with
Medtronic's Guardian 2 Link CGM
Transmitter and with Medtronic's real
time standalone CGM system - Guardian
Connect - for those who use multiple
continued over
daily injections (MDI), so not just
for pump users.
Self-funding of sensors for
standalone use starts at £199/
month for a year, aimed at those
on MDI. If self-funding for use with
a Medtronic 640g or 670g insulin
pump, there are two options.
One is based on continuous
use, where a box of five sensors
is £210 (more than 20% off
standard price of £275). Or, for
non-continuous use, £236 per
box (14% discount). Sensors last
seven days.
*MARD is a mean absolute relative
difference; a more recent MARD reliability
index (MRI) has been set up to monitor
sensor accuracy claims.