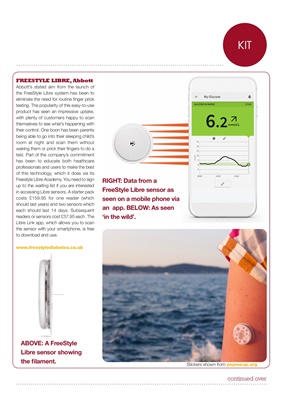 KIT
continued over
FREESTYLE LIBRE, Abbott
Abbott's stated aim from the launch of
the FreeStyle Libre system has been to
eliminate the need for routine finger prick
testing. The popularity of this easy-to-use
product has seen an impressive uptake,
with plenty of customers happy to scan
themselves to see what's happening with
their control. One boon has been parents
being able to go into their sleeping child's
room at night and scan them without
waking them or prick their fingers to do a
test. Part of the company's commitment
has been to educate both healthcare
professionals and users to make the best
of this technology, which it does via its
Freestyle Libre Academy. You need to sign
up to the waiting list if you are interested
in accessing Libre sensors. A starter pack
costs £159.95 for one reader (which
should last years) and two sensors which
each should last 14 days. Subsequent
readers or sensors cost £57.95. The Libre
Link app, which allows you to scan the
sensor with your smartphone, is free to
download and use.