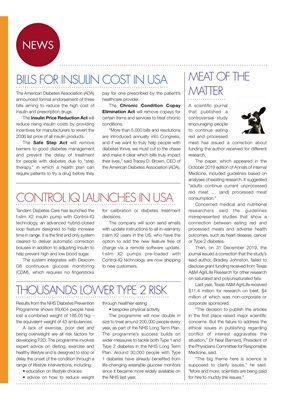 NEWS
BILLS FOR INSULIN COST IN USA
THOUSANDS LOWER TYPE 2 RISK
Results from the NHS Diabetes Prevention
Programme shows 89,604 people have
lost a combined weight of 185,051kg -
the equivalent weight of 43 ambulances.
A lack of exercise, poor diet and
being overweight are all risk factors for
developing T2D. The programme involves
expert advice on dieting, exercise and
healthy lifestyle and is designed to stop or
delay the onset of the condition through a
range of lifestyle interventions, including:
• education on lifestyle choices
• advice on how to reduce weight
through healthier eating
• bespoke physical activity.
The programme will now double in
size to treat around 200,000 people every
year, as part of the NHS Long Term Plan.
The programme's success builds on
wider measures to tackle both Type 1 and
Type 2 diabetes in the NHS Long Term
Plan. Around 30,000 people with Type
1 diabetes have already benefited from
life-changing wearable glucose monitors
since it became more widely available on
the NHS last year.
The American Diabetes Association (ADA)
announced formal endorsement of three
bills aiming to reduce the high cost of
insulin and prescription drugs.
The Insulin Price Reduction Act will
reduce rising insulin costs by providing
incentives for manufacturers to revert the
2006 list price of all insulin products.
The Safe Step Act will remove
barriers to good diabetes management
and prevent the delay of treatment
for people with diabetes due to "step
therapy," in which a health plan can
require patients to try a drug before they
pay for one prescribed by the patient's
healthcare provider.
The Chronic Condition Copay
Elimination Act will remove copays for
certain items and services to treat chronic
conditions.
"More than 5,000 bills and resolutions
are introduced annually into Congress,
and if we want to truly help people with
diabetes thrive, we must cut to the chase
and make it clear which bills truly impact
their lives," said Tracey D. Brown, CEO of
the American Diabetes Association (ADA).
Tandem Diabetes Care has launched the
t:slim X2 insulin pump with Control-IQ
technology, an advanced hybrid-closed
loop feature designed to help increase
time in range. It is the first and only system
cleared to deliver automatic correction
boluses in addition to adjusting insulin to
help prevent high and low blood sugar.
The system integrates with Dexcom
G6 continuous glucose monitoring
(CGM), which requires no fingersticks
for calibration or diabetes treatment
decisions.
The company will soon send emails
with update instructions to all in-warranty
t:slim X2 users in the US, who have the
option to add the new feature free of
charge via a remote software update.
t:slim X2 pumps pre-loaded with
Control-IQ technology are now shipping
to new customers.
CONTROL IQ LAUNCHES IN USA
A scientific journal
that published a
controversial study
encouraging people
to continue eating
red and processed
meat has issued a correction about
funding the author received for different
research.
The paper, which appeared in the
October 2019 edition of Annals of Internal
Medicine, included guidelines based on
analyses of existing research. It suggested
"adults continue current unprocessed
red meat … (and) processed meat
consumption."
Concerned medical and nutritional
researchers said the guidelines
misrepresented studies that show a
connection between eating red and
processed meats and adverse health
outcomes, such as heart disease, cancer
or Type 2 diabetes.
Then, on 31 December 2019, the
journal issued a correction that the study's
lead author, Bradley Johnston, failed to
disclose grant funding received from Texas
A&M AgriLife Research for other research
on saturated and polyunsaturated fats.
Last year, Texas A&M AgriLife received
$11.4 million for research on beef, $4
million of which was non-corporate or
corporate sponsored.
"The decision to publish the articles
in the first place raised major scientific
concerns. But the failure to address the
ethical issues in publishing regarding
conflict of interest aggravates the
situation," Dr Neal Barnard, President of
the Physicians Committee for Responsible
Medicine, said.
"The big theme here is science is
supposed to clarify issues," he said.
"More and more, scientists are being paid
for hire to muddy the issues."
MEAT OF THE
MATTER