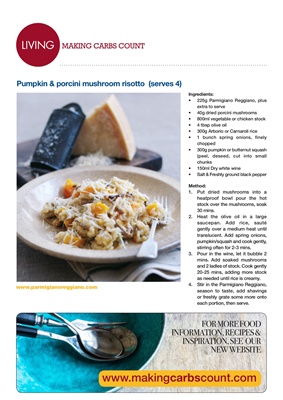 LIVINGLIVING
Pumpkin & porcini mushroom risotto (serves 4) Ingredients:
• 225g Parmigiano Reggiano, plus
extra to serve
• 40g dried porcini mushrooms
• 3 tsp vegetable stock powder, or 1
vegetable stock cube
• 4 tbsp olive oil
• 300g Arborio or Carnaroli rice
• 1 bunch spring onions, finely
chopped
• 300g pumpkin or butternut
squash,peeled, deseeded and cut
MAKING CARBS COUNT
Method:
1. Put dried mushrooms into a
heatproof bowl. Mix stock with
850ml of boiling water, pour over
the mushrooms, soak 30 mins.
2. Heat the olive oil in a large
saucepan. Add rice, sauté
gently over a medium heat until
translucent. Add spring onions,
pumpkin/squash and cook gently,
stirring often for 2-3 mins.
3. Pour in the wine, let it bubble 2
mins. Add soaked mushrooms
and 2 ladles of stock. Cook gently
20-25 mins, adding more stock
as needed until rice is creamy.
4. Stir in the Parmigiano Reggiano,
season to taste, add shavings
or freshly grate some more onto
each portion, then serve.
FOR MORE FOOD
INFORMATION, RECIPES &
INSPIRATION, SEE OUR
NEW WEBSITE