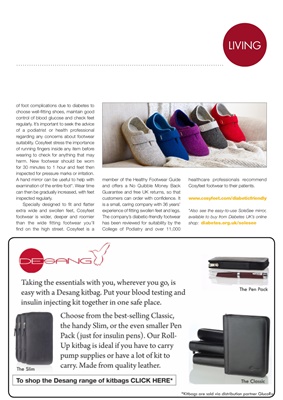 KITLIVING
of foot complications due to diabetes to
choose well-fitting shoes, maintain good
control of blood glucose and check feet
regularly. It's important to seek the advice
of a podiatrist or health professional
regarding any concerns about footwear
suitability. Cosyfeet stress the importance
of running fingers inside any item before
wearing to check for anything that may
harm. New footwear should be worn
for 30 minutes to 1 hour and feet then
inspected for pressure marks or irritation.
A hand mirror can be useful to help with
examination of the entire foot*. Wear time
can then be gradually increased, with feet
inspected regularly.
Specially designed to fit and flatter
extra wide and swollen feet, Cosyfeet
footwear is wider, deeper and roomier
than the wide fitting footwear you'll
find on the high street. Cosyfeet is a
member of the Healthy Footwear Guide
and offers a No Quibble Money Back
Guarantee and free UK returns, so that
customers can order with confidence. It
is a small, caring company with 36 years'
experience of fitting swollen feet and legs.
The company's diabetic-friendly footwear
has been reviewed for suitability by the
College of Podiatry and over 11,000
healthcare professionals recommend
Cosyfeet footwear to their patients.
www.cosyfeet.com/diabeticfriendly
*Also see the easy-to-use SoleSee mirror,
available to buy from Diabetes UK's online
shop: diabetes.org.uk/solesee