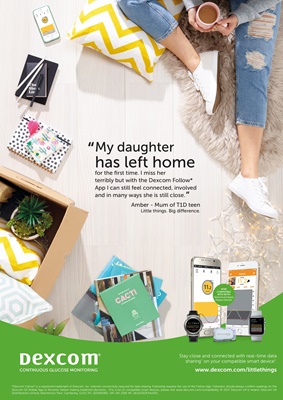 My daughter
has left home
for the first time. I miss her
terribly but with the Dexcom Follow*
App I can still feel connected, involved
and in many ways she is still close.
Amber - Mum of T1D teen
Little things. Big difference.
"
Stay close and connected with real-time data
sharing* on your compatible smart device†.
NOW
COMPATIBLE
WITH BOTH
Android and Apple
Display Devices†
*Dexcom Follow® is a registered trademark of Dexcom, Inc. Internet connectivity required for data sharing. Following requires the use of the Follow App. Followers should always confirm readings on the
Dexcom G5 Mobile App or Receiver before making treatment decisions. †For a list of compatible smart devices, please visit www.dexcom.com/compatibility. © 2017 Dexcom UK & Ireland. Dexcom UK
(Distribution) Limited, Watchmoor Park, Camberley, GU15 3YL (10040080). VAT 241 2390 40. LBL015329 Rev001.
"