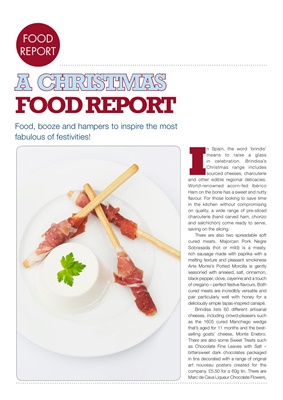 LIVINGLIVING
A CHRISTMAS
FOOD REPORT
Food, booze and hampers to inspire the most
fabulous of festivities!
I
n Spain, the word 'brindis'
means to raise a glass
in celebration. Brindisa's
Christmas range includes
sourced cheeses, charcuterie
and other edible regional delicacies.
World-renowned acorn-fed Ibérico
Ham on the bone has a sweet and nutty
flavour. For those looking to save time
in the kitchen without compromising
on quality, a wide range of pre-sliced
charcuterie (hand carved ham, chorizo
and salchichón) come ready to serve,
saving on the slicing.
There are also two spreadable soft
cured meats. Majorcan Pork Negre
Sobrasada (hot or mild) is a meaty,
rich sausage made with paprika with a
melting texture and pleasant smokiness
Arte Monte's Potted Morcilla is gently
seasoned with aniseed, salt, cinnamon,
black pepper, clove, cayenne and a touch
of oregano - perfect festive flavours. Both
cured meats are incredibly versatile and
pair particularly well with honey for a
deliciously simple tapas-inspired canapé.
Brindisa lists 60 different artisanal
cheeses, including crowd-pleasers such
as the 1605 cured Manchego wedge
that's aged for 11 months and the bestselling
goats' cheese, Monte Enebro.
There are also some Sweet Treats such
as Chocolate Fine Leaves with Salt -
bittersweet dark chocolates packaged
in tins decorated with a range of original
art nouveau posters created for the
company. £5.50 for a 60g tin. There are
Marc de Cava Liqueur Chocolate Flowers,
FOOD
REPORT