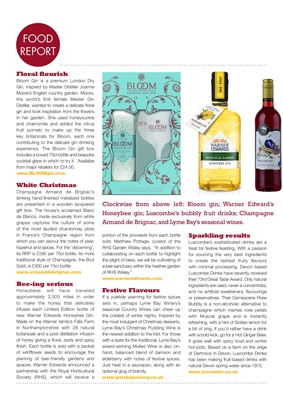 LIVINGLIVING
FOOD
REPORT
Floral flourish
Bloom Gin is a premium London Dry
Gin, inspired by Master Distiller Joanne
Moore's English country garden. Moore,
the world's first female Master Gin
Distiller, wanted to create a delicate floral
gin and took inspiration from the flowers
in her garden. She used honeysuckle
and chamomile and added the citrus
fruit pomelo to make up the three
key botanicals for Bloom, each one
contributing to the delicate gin drinking
experience. The Bloom Gin gift box
includes a boxed 70cl bottle and bespoke
cocktail glass in which to try it. Available
from major retailers for £24.00.
White Christmas
Champagne Armand de Brignac's
striking hand-finished metalized bottles
are presented in a wooden lacquered
gift box. The house's acclaimed Blanc
de Blancs, made exclusively from white
grapes captures the culture of some
of the most lauded chardonnay plots
in France's Champagne region from
which you can savour the notes of pear,
hazelnut and spices. For the 'discerning',
its RRP is £590 per 75cl bottle. Its more
traditional style of Champagne, the Brut
Gold, is £300 per 75cl bottle.
Bee-ing serious
Honeybees will have travelled
approximately 2,500 miles in order
to make the honey that delicately
infuses each Limited Edition bottle of
new Warner Edwards Honeybee Gin.
Made on the Warner family's Falls Farm
in Northamptonshire with 28 natural
botanicals and a post distillation infusion
of honey giving a floral, zesty and spicy
finish. Each bottle is sold with a packet
of wildflower seeds to encourage the
planting of bee-friendly gardens and
spaces. Warner Edwards announced a
partnership with the Royal Horticultural
Society (RHS), which will receive a
portion of the proceeds from each bottle
sold. Matthew Pottage, curator of the
RHS Garden Wisley says, "In addition to
collaborating on each bottle to highlight
the plight of bees, we will be cultivating of
a bee sanctuary within the heather garden
of RHS Wisley.''
Festive Flavours
If a yuletide yearning for festive spices
sets in, perhaps Lyme Bay Winery's
seasonal Country Wines can cheer up
the coldest of winter nights. Inspired by
the most indulgent of Christmas desserts,
Lyme Bay's Christmas Pudding Wine is
the newest addition to the fold. For those
with a taste for the traditional, Lyme Bay's
award-winning Mulled Wine is also onhand, balanced blend of damson and
elderberry with notes of festive spices.
Just heat in a saucepan, along with an
optional glug of brandy.
Sparkling results
Luscombe's sophisticated drinks are a
treat for festive feasting, With a passion
for sourcing the very best ingredients
to create the tastiest fruity flavours
with minimal processing, Devon based
Luscombe Drinks have recently received
their 73rd Great Taste Award. Only natural
ingredients are used, never a concentrate;
and no artificial sweeteners, flavourings
or preservatives. Their Damascene Rose
Bubbly is a non-alcoholic alternative to
champagne which marries rose petals
with Muscat grape and is instantly
refreshing, with a hint of Sicilian lemon for
a bit of zing. If you'd rather have a drink
with a bold kick, go for a Hot Ginger Beer.
It goes well with spicy food and winter
hot-pots. Based on a farm on the edge
of Dartmoor in Devon, Luscombe Drinks
has been making fruit-based drinks with
natural Devon spring water since 1975.
Clockwise from above left: Bloom gin; Warner Edward's
Honeybee gin; Luscombe's bubbly fruit drinks; Champagne
Armand de Brignac, and Lyme Bay's seasonal wines.