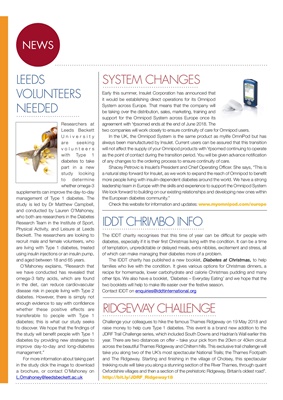 NEWS
LEEDS
VOLUNTEERS
NEEDED
Early this summer, Insulet Corporation has announced that
it would be establishing direct operations for its Omnipod
System across Europe. That means that the company will
be taking over the distribution, sales, marketing, training and
support for the Omnipod System across Europe once its
agreement with Ypsomed ends at the end of June 2018. The
two companies will work closely to ensure continuity of care for Omnipod users.
In the UK, the Omnipod System is the same product as mylife OmniPod but has
always been manufactured by Insulet. Current users can be assured that this transition
will not affect the supply of your Omnipod products with Ypsomed continuing to operate
as the point of contact during the transition period. You will be given advance notification
of any changes to the ordering process to ensure continuity of care.
Shacey Petrovic is Insulet's President and Chief Operating Officer. She says, "This is
a natural step forward for Insulet, as we work to expand the reach of Omnipod to benefit
more people living with insulin-dependent diabetes around the world. We have a strong
leadership team in Europe with the skills and experience to support the Omnipod System
We look forward to building on our existing relationships and developing new ones within
the European diabetes community."
Check this website for information and updates: www.myomnipod.com/europe
SYSTEM CHANGES
Researchers at
Leeds Beckett
University
are seeking
volunteers
with Type 1
diabetes to take
part in a new
study looking
to determine
whether omega-3
supplements can improve the day-to-day
management of Type 1 diabetes. The
study is led by Dr Matthew Campbell,
and conducted by Lauren O'Mahoney,
who both are researchers in the Diabetes
Research Team in the Institute of Sport,
Physical Activity, and Leisure at Leeds
Beckett. The researchers are looking to
recruit male and female volunteers, who
are living with Type 1 diabetes, treated
using insulin injections or an insulin pump,
and aged between 18 and 65 years.
O'Mahoney explains, "Research that
we have conducted has revealed that
omega-3 fatty acids, which are found
in the diet, can reduce cardiovascular
disease risk in people living with Type 2
diabetes. However, there is simply not
enough evidence to say with confidence
whether these positive effects are
transferable to people with Type 1
diabetes; this is what our study seeks
to discover. We hope that the findings of
the study will benefit people with Type 1
diabetes by providing new strategies to
improve day-to-day and long-diabetes
management."
For more information about taking parl.omahoney@leedsbeckett.ac.uke image to download
a brochure, or contact O'Mahoney on
L.Omahoney@leedsbeckett.ac.uk
IDDT CHRIMBO INFO
Christmas grows, we recognise that it can be a difficult time for people who have Type
1 or Type 2 diabetes, especially if it is their first Christmas with diabetes. It can be a time
of temptation, unpredictable or delayed meals, extra nibbles, excitement and stress, all
of which can make managing their diabetes more of a problem.
The IDDT charity has published a new booklet, Diabetes at Christmas, to help
families who live with the condition. It gives various options for Christmas dinners, a
recipe for homemade, lower carbohydrate and calorie Christmas pudding and many
other tips. We also have a booklet, 'Diabetes - Everyday Eating' and we hope thatenquiries@iddtinternational.orglp to make life easier over the festive season.
Contact IDDT on enquiries@iddtinternational.org
Challenge your colleagues to hike the famous Thames Ridgeway on 19 May 2018 and
raise money to help cure Type 1 diabetes. This event is a brand new addition to the
JDRF Trail Challenge series, which included South Downs and Hadrian's Wall earlier this
year. There are two distances on offer - take your pick from the 20km or 40km circuit
across the beautiful Thames Ridgeway and Chiltern hills. This exclusive trail challenge will
take you along two of the UK's most spectacular National Trails; the Thames Footpath
and The Ridgeway. Starting and finishing in the village of Cholsey, this spectacular
trekking route will take you along a stunning section of the River Thames, through quaint
Oxfordshire villages and then a section of the prehistoric Ridgeway, Britain's oldest road".
RIDGEWAY CHALLENGE