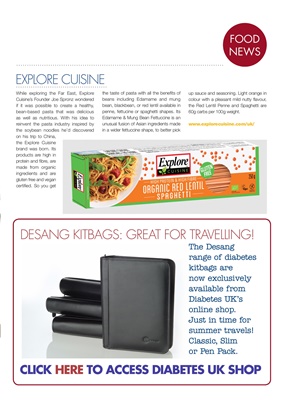 KITLIVING
EXPLORE CUISINE
While exploring the Far East, Explore
Cuisine's Founder Joe Spronz wondered
if it was possible to create a healthy,
bean-based pasta that was delicious
as well as nutritious. With his idea to
reinvent the pasta industry inspired by
the soybean noodles he'd discovered
on his trip to China,
the Explore Cuisine
brand was born. Its
products are high in
protein and fibre, are
made from organic
ingredients and are
gluten free and vegan
certified. So you get
FOOD
NEWS
CLICK HERE TO ACCESS DIABETES UK SHOP
DESANG KITBAGS: GREAT FOR TRAVELLING!
The Desang
range of diabetes
kitbags are
now exclusively
available from
Diabetes UK's
online shop.
Just in time for
summer travels!
Classic, Slim
or Pen Pack.
the taste of pasta with all the benefits of
beans including Edamame and mung
bean, blackbean, or red lentil available in
penne, fettucine or spaghetti shapes. Its
Edamame & Mung Bean Fettuccine is an
unusual fusion of Asian ingredients made
in a wider fettuccine shape, to better pick
up sauce and seasoning. Light orange in
colour with a pleasant mild nutty flavour,
the Red Lentil Penne and Spaghetti are
60g carbs per 100g weight.