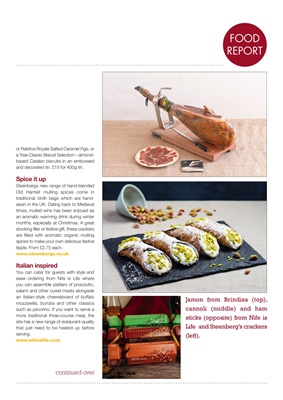 KITLIVING
or Rabitos Royale Salted Caramel Figs, or
a Trias Classic Biscuit Selection - almondbased Catalan biscuits in an embossed
and decorated tin. £15 for 400g tin.
Spice it up
Steenbergs new range of hand-blended
Old Hamlet mulling spices come in
traditional cloth bags which are handsewn in the UK. Dating back to Medieval
times, mulled wine has been enjoyed as
an aromatic warming drink during winter
months, especially at Christmas. A great
stocking filler or festive gift, these crackers
are filled with aromatic organic mulling
spices to make your own delicious festive
tipple. From £2.75 each.
Italian inspired
You can cater for guests with style and
ease ordering from Nife is Life where
you can assemble platters of prosciutto,
salami and other cured meats alongside
an Italian-style cheeseboard of buffalo
mozzarella, burrata and other classics
such as pecorino. If you want to serve a
more traditional three-course meal, the
site has a new range of restaurant-quality
that just need to be heated up before
serving.
continued over
FOOD
REPORT
Jamon from Brindisa (top),
cannoli (middle) and ham
sticks (opposite) from Nife is
Life and Steenberg's crackers
(left).