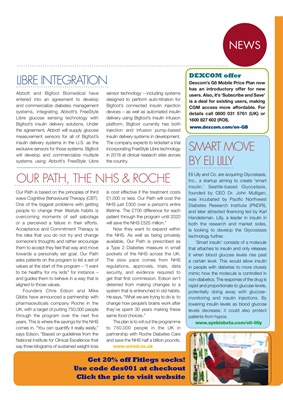 NEWS
Abbott and Bigfoot Biomedical have
entered into an agreement to develop
and commercialize diabetes management
systems, integrating Abbott's FreeStyle
Libre glucose sensing technology with
Bigfoot's insulin delivery solutions. Under
the agreement, Abbott will supply glucose
measurement sensors for all of Bigfoot's
insulin delivery systems in the U.S. as the
exclusive sensors for those systems. Bigfoot
will develop and commercialize multiple
systems using Abbott's FreeStyle Libre
LIBRE INTEGRATION
sensor technology- including systems
designed to perform auto-titration for
Bigfoot's connected insulin injection
devices - as well as automated insulin
delivery using Bigfoot's insulin infusion
platform. Bigfoot currently has both
injection and infusion pump-based
insulin delivery systems in development.
The company expects to kickstart a trial
incorporating FreeStyle Libre technology
in 2018 at clinical research sites across
the country.
OUR PATH, THE NHS & ROCHE
Our Path is based on the principles of third
wave Cognitive Behavioural Therapy (CBT).
One of the biggest problems with getting
people to change their lifestyle habits is
overcoming moments of self sabotage
or a perceived a failure in their efforts.
Acceptance and Commitment Therapy is
the idea that you do not try and change
someone's thoughts and rather encourage
them to accept they feel that way and move
towards a personally set goal. Our Path
asks patients on the program to list a set of
values at the start of the program - "I want
to be healthy for my kids" for instance -
and guides them to behave in a way that is
aligned to those values.
Founders Chris Edson and Mike
Gibbs have announced a partnership with
pharmaceuticals company Roche in the
UK, with a target of putting 750,000 people
through the program over the next five
years. This is where the savings for the NHS
comes in. "You can quantify it really easily,"
says Edson. Based off guidelines from the
National Institute for Clinical Excellence that
say three kilograms of sustained weight-loss
is cost effective if the treatment costs
£1,000 or less, Edson says Our Path will
cost the NHS just £300 over a person's
entire lifetime. The £700 difference for
each patient through the program until
2020 will save the NHS £525 million."
Now they want to expand within
the NHS. As well as being privately
available, Our Path is prescribed as
a Type 2 Diabetes measure in small
pockets of the NHS across the UK.
The slow pace comes from NHS
regulations, approvals, trials, data
security, and evidence required to
get that first commission. Edson isn't
deterred from making changes to a
system that is entrenched in old habits.
He says, "What we trying to do is
change how people's brains work after
they've spent 30 years making these
same food choices."
The plan is to roll out the programme
to 750,000 people in the UK in
partnership with Roche Diabetes Care
and save the NHS half a billion pounds.
Dexcom's 'Subscribe and Save' is
a new deal for existing customers,
providing savings to try to make
CGM more accessible. For more
details call 0800 031 5761 (UK) or
1800 827 602 (ROI).
Eli Lilly and Co. are acquiring Glycostasis,
Inc., a startup aiming to create 'smart
insulin.' Seattle-based Glycostasis,
founded by CEO Dr. John Mulligan,
was incubated by Pacific Northwest
Diabetes Research Institute (PNDRI),
and later attracted financing led by Karl
Handelsman. Lilly, a leader in insulin in
both the research and market sides,
is looking to develop the Glycostasis
technology further.
'Smart insulin' consists of a molecule
that attaches to insulin and only releases
it when blood glucose levels rise past
a certain level. This would allow insulin
in people with diabetes to more closely
mimic how the molecule is controlled in
non-diabetics. The response of the drug is
rapid and proportionate to glucose levels,
potentially doing away with glucosemonitoring
and insulin injections. By
lowering insulin levels as blood glucose
levels decrease, it could also protect
patients from hypos.
SMART MOVE
BY ELI LILLY
Get 20% off Fitlegs socks!
Use code des001 at checkout
Click the pic to visit website DEXCOM offer