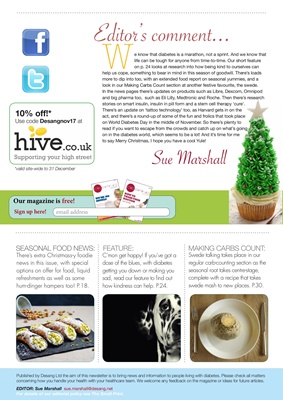 Published by Desang Ltd the aim of this newsletter is to bring news and information to people living with diabetes. Please check all matters
concerning how you handle your health with your healthcare team. We welcome any feedback on the magazine or ideas for future articles.
EDITOR: Sue Marshall sue.marshall@desang.net
For details of our editorial policy see The Small Print.
There's extra Christmass-y foodie
news in this issue, with special
options on offer for food, liquid
refreshments as well as some
hum-dinger hampers too! P.18.
Sue Marshall
Swede talking takes place in our
regular carb-counting section as the
seasonal root takes centre-stage,
complete with a recipe that takes
swede mash to new places. P.30.
We know that diabetes is a marathon, not a sprint. And we know that
life can be tough for anyone from time-to-time. Our short feature
on p. 24 looks at research into coping being kind to ourselves,
something to bear in mind in this season of goodwill. There's loads more to dip into
too, with an extended food report on seasonal yummies, and a look in our Making
Carbs Count section at another festive favourite, the swede. In the news pages
there's updates on products such as Libre, Dexcom, Omnipod and big pharma
too, such as Eli Lilly, Medtronic and Roche. Then there's research stories on smart
insulin, insulin in pill form and a stem cell therapy 'cure'. There's an update
on 'tattoo technology' too, as Harvard gets in on the act, and there's a
round-up of some of the fun and frolics that took place on World Diabetes
Day in the middle of November. So there's plenty to read if you want to
escape from the crowds and catch up on what's going on in the diabetes
world, which seems to be a lot! And it's time for me to say Merry
Christmas, I hope you have a cool Yule!
Editor's comment...
ISSUE 30
MAGAZINE
DESANG
PLUS • New Products • Groovy giveaways • News (for T1 and T2)
WE'RE NO
ANGELS
But business as usual is best for
diabetics at Christmas
MAKING
CARBS COUNT:
CHESTNUTS ROASTING
ON OPEN FIRES
Our magazine is free!
Sign up here! email address
FEATURE:
C'mon get happy! If you've got a
dose of the blues, with diabetes
getting you down or making you
sad, read our feature to find out
how kindness can help. P.24.
SEASONAL FOOD NEWS: MAKING CARBS COUNT:
10% off!*
Use code Desangnov17 at
*valid site-wide to 31 December