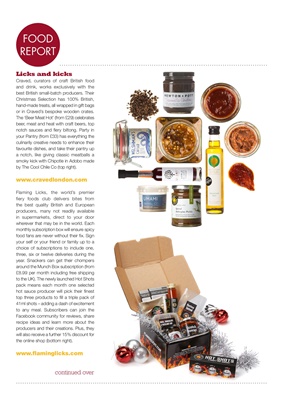 LIVINGLIVING
Licks and kicks
Craved, curators of craft British food
and drink, works exclusively with the
best British small-batch producers. Their
Christmas Selection has 100% British,
hand-made treats, all wrapped in gift bags
or in Craved's bespoke wooden crates.
The 'Beer Meat Hot' (from £29) celebrates
beer, meat and heat with craft beers, top
notch sauces and fiery biltong. Party in
your Pantry (from £33) has everything the
culinarily creative needs to enhance their
favourite dishes, and take their pantry up
a notch, like giving classic meatballs a
smoky kick with Chipotle in Adobo made
by The Cool Chile Co (top right).
Flaming Licks, the world's premier
fiery foods club delivers bites from
the best quality British and European
producers, many not readily available
in supermarkets, direct to your door
wherever that may be in the world. Each
monthly subscription box will ensure spicy
food fans are never without their fix. Sign
your self or your friend or family up to a
choice of subscriptions to include one,
three, six or twelve deliveries during the
year. Snackers can get their chompers
around the Munch Box subscription (from
£8.99 per month including free shipping
to the UK). The newly launched Hot Shots
pack means each month one selected
hot sauce producer will pick their finest
top three products to fill a triple pack of
41ml shots - adding a dash of excitement
to any meal. Subscribers can join the
Facebook community for reviews, share
recipe ideas and learn more about the
producers and their creations. Plus, they
will also receive a further 15% discount for
the online shop (bottom right).
continued over
FOOD
REPORT