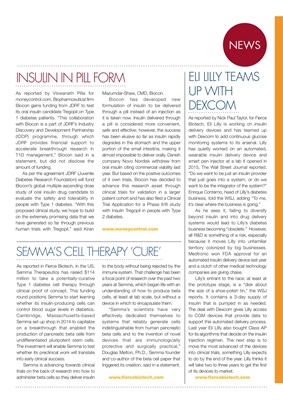 NEWS
ELI LILLY TEAMS
UP WITH
DEXCOM
As reported by Nick Paul Taylor, for Fierce
Biotech, Eli Lilly is working on insulin
delivery devices and has teamed up
with Dexcom to add continuous glucose
monitoring systems to its arsenal. Lilly
has quietly worked on an automated,
wearable insulin delivery device and
smart pen injector at a lab it opened in
2015, The Wall Street Journal reported.
"Do we want to be just an insulin provider
that just goes into a system, or do we
want to be the integrator of the system?"
Enrique Conterno, head of Lilly's diabetes
business, told the WSJ. "To me, it's clear
where the business is going."
As Conterno sees it, failing to diversify
beyond insulin and into drug delivery
systems would lead to Lilly's diabetes
business becoming "obsolete." However,
all R&D is something of a risk, especially
because it moves Lilly onto unfamiliar
territory colonized by big businesses.
Medtronic won FDA approval for an
automated insulin delivery device last year
and a clutch of other medical technology
companies are giving chase.
Lilly's entrant to the race, at least at
the prototype stage, is a "disk about
the size of a shoe-polish tin," the WSJ
reports, which contains a three-day
supply of insulin that is pumped into the
patient as needed. The deal with Dexcom
gives Lilly access to continuous glucose
monitoring devices that provide data to
support this automated delivery process.
Last year Eli LIlly quietly bought Class AP
for its algorithms that decide on the insulin
injection regimen. The next step is to
move the most advanced of the devices
into the clinic, something Lilly expects to
do by the end of the year. Lilly thinks it will
take two to three years to get the first of
its devices to market.
As reported by by Viswanath Pilla for
moneycontrol.com, Biopharmceutical firm
Biocon gains funding from JDRF to test its
oral insulin candidate Tregopil on Type 1
diabetes patients.
"This collaboration with Biocon is
a part of JDRF's Industry Discovery
and Development Partnership
(IDDP) programme, through which
JDRF provides financial support to
accelerate breakthrough research in
T1D management," Biocon said in a
statement, but did not disclose the
amount of funding.
As per the agreement JDRF (Juvenile
Diabetes Research Foundation) will fund
Biocon's global multiple ascending dose
study of oral insulin drug candidate to
evaluate the safety and tolerability in
people with Type 1 diabetes. "With this
proposed clinical study, we hope to build
on the extremely promising data that we
have generated so far through previous
human trials with Tregopil,"said Kiran
INSULIN IN PILL FORM
As reported in Fierce Biotech, in the US,
Semma Therapeutics has raised $114
million to take a potentially-curative Type 1
diabetes cell therapy through clinical proof
of concept. The round positions Semma to
start learning whether its insulin-producing
cells can control blood sugar levels in
diabetics. Cambridge, Massachusettsbased Semma set up shop in 2014 to
capitalize on a breakthrough that enabled
the production of pancreatic beta cells
from undifferentiated pluripotent stem
cells. The investment will enable Semma
to test whether its preclinical work will
translate into early clinical success.
Semma is advancing toward the
clinic on the back of research into how to
administer beta cells so they deliver insulin
SEMMA'S CELL THERAPY 'CURE'
Mazumdar-Shaw, CMD, Biocon.
Biocon has developed new
formulation of insulin to be delivered
through a pill instead of an injection as
it is taken now. Insulin delivered through
a pill is considered more convenient,
safe and effective; however, the success
has been elusive so far as insulin rapidly
degrades in the stomach and the upper
portion of the small intestine, making it
almost impossible to deliver orally. Danish
company Novo Nordisk withdrew from
oral insulin citing commercial viability last
year. But based on the positive outcomes
of it own trials, Biocon has decided to
advance this research asset through
clinical trials for validation in a larger
patient cohort and has also filed a Clinical
Trial Application for a Phase II/III study
with Insulin Tregopil in people with Type
2 diabetes
to the body without being rejected by the
immune system. That challenge has been
a focal point of research over the past two
years at Semma, which began life with an
understanding of how to produce beta
cells, at least at lab scale, but without a
device in which to encapsulate them.
"Semma's scientists have very
effectively dedicated themselves to
systems that reliably generate cells
indistinguishable from human pancreatic
beta cells and to the invention of novel
devices that are immunologically
protective and surgically practical,"
Douglas Melton, Ph.D., Semma founder
and co-author of the beta cell paper that
triggered its creation, said in a statement.