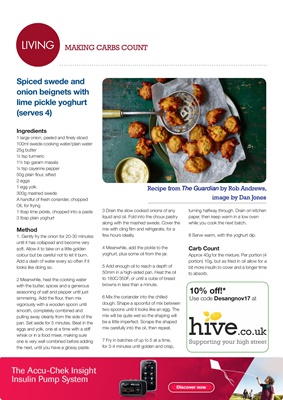 LIVINGLIVING
Spiced swede and
onion beignets with
lime pickle yoghurt
(serves 4)
Ingredients
1 large onion, peeled and finely sliced
100ml swede cooking water/plain water
25g butter
½ tsp turmeric
1½ tsp garam masala
¼ tsp cayenne pepper
50g plain flour, sifted
2 eggs
1 egg yolk
300g mashed swede
A handful of fresh coriander, chopped
Oil, for frying
1 tbsp lime pickle, chopped into a paste
3 tbsp plain yoghurt
MAKING CARBS COUNT
Method
1. Gently fry the onion for 20-30 minutes
until it has collapsed and become very
soft. Allow it to take on a little golden
colour but be careful not to let it burn.
Add a dash of water every so often if it
looks like doing so.
2 Meanwhile, heat the cooking water
with the butter, spices and a generous
seasoning of salt and pepper until just
simmering. Add the flour, then mix
vigorously with a wooden spoon until
smooth, completely combined and
pulling away cleanly from the side of the
pan. Set aside for 5 minutes. Beat in the
eggs and yolk, one at a time with a stiff
whisk or in a food mixer, making sure
one is very well combined before adding
the next, until you have a glossy paste.
Recipe from The Guardian by Rob Andrews,
image by Dan Jones
10%
DISCOUNT
AT HIVE
Carb Count
Cauliflower has a low glycaemic index and
approximately 5g carbs per 100g serving.
3 Drain the slow cooked onions of any
liquid and oil. Fold into the choux pastry
along with the mashed swede. Cover the
mix with cling film and refrigerate, for a
few hours ideally.
4 Meanwhile, add the pickle to the
yoghurt, plus some oil from the jar.
5 Add enough oil to reach a depth of
50mm in a high-sided pan. Heat the oil
to 180C/350F, or until a cube of bread
browns in less than a minute.
6 Mix the coriander into the chilled
dough. Shape a spoonful of mix between
two spoons until it looks like an egg. The
mix will be quite wet so the shaping will
be a little imperfect. Scrape the shaped
mix carefully into the oil, then repeat.
7 Fry in batches of up to 5 at a time,
for 3-4 minutes until golden and crisp,
turning halfway through. Drain on kitchen
paper, then keep warm in a low oven
while you cook the next batch.
8 Serve warm, with the yoghurt dip.