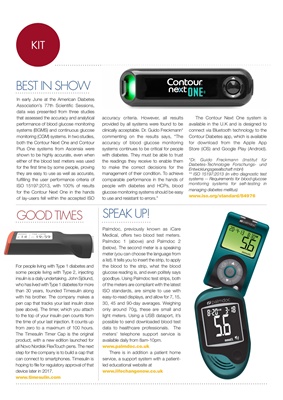 KIT
BEST IN SHOW
In early June at the American Diabetes
Association's 77th Scientific Sessions,
data was presented from three studies
that assessed the accuracy and analytical
performance of blood glucose monitoring
systems (BGMS) and continuous glucose
monitoring (CGM) systems. In two studies,
both the Contour Next One and Contour
Plus One systems from Ascensia were
shown to be highly accurate, even when
either of the blood test meters was used
for the first time by some people, proving
they are easy to use as well as accurate,
fulfilling the user performance criteria of
ISO 15197:2013, with 100% of results
for the Contour Next One in the hands
of lay-users fell within the accepted ISO
GOOD TIMES
For people living with Type 1 diabetes and
some people living with Type 2, injecting
insulin is a daily undertaking. John Sjölund,
who has lived with Type 1 diabetes for more
than 30 years, founded Timesulin along
with his brother. The company makes a
pen cap that tracks your last insulin dose
(see above). The timer, which you attach
to the top of your insulin pen counts from
the time of your last injection. It counts up
from zero to a maximum of 100 hours.
The Timesulin Timer Cap is the original
product, with a new edition launched for
all Novo Nordisk FlexTouch pens. The next
step for the company is to build a cap that
can connect to smartphones. Timesulin is
hoping to file for regulatory approval of that
device later in 2017.
accuracy criteria. However, all results
provided by all systems were found to be
clinically acceptable. Dr. Guido Freckmann*
commenting on the results says, "The
accuracy of blood glucose monitoring
systems continues to be critical for people
with diabetes. They must be able to trust
the readings they receive to enable them
to make the correct decisions for the
management of their condition. To achieve
comparable performance in the hands of
people with diabetes and HCPs, blood
glucose monitoring systems should be easy
to use and resistant to errors."
The Contour Next One system is
available in the U.K and is designed to
connect via Bluetooth technology to the
Contour Diabetes app, which is available
for download from the Apple App
Store (iOS) and Google Play (Android).
*Dr. Guido Freckmann (Institut für
Diabetes-Technologie Forschungs- und
Entwicklungsgesellschaft mbH)
** ISO 15197:2013 (in vitro diagnostic test
systems -- Requirements for blood-glucose
monitoring systems for self-testing in
managing diabetes mellitus)
SPEAK UP!
Palmdoc, previously known as iCare
Medical, offers two blood test meters.
Palmdoc 1 (above) and Palmdoc 2
(below). The second meter is a speaking
meter (you can choose the language from
a list). It tells you to insert the strip, to apply
the blood to the strip, what the blood
glucose reading is, and even politely says
goodbye. Using Palmdoc test strips, both
of the meters are compliant with the latest
ISO standards, are simple to use with
easy-to-read displays, and allow for 7, 15,
30, 45 and 90-day averages. Weighing
only around 70g, these are small and
light meters. Using a USB dataport, it's
possible to send downloaded blood test
data to healthcare professionals. The
meters' telephone support service is
available daily from 8am-10pm.
There is in addition a patient home
service, a support system with a patientled educational website at