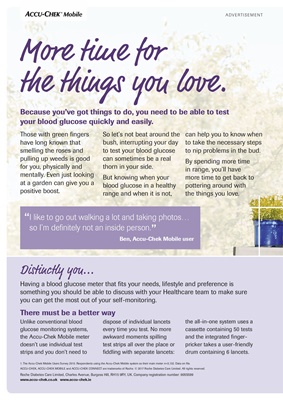 More time for
the things you love.
Because you've got things to do, you need to be able to test
your blood glucose quickly and easily.
" I like to go out walking a lot and taking photos…
so I'm definitely not an inside person."Ben, Accu-Chek Mobile user
ADVERTISEMENT
1. The Accu-Chek Mobile Users Survey 2013. Respondents using the Accu-Chek Mobile system as their main meter n=3,132. Data on file.
ACCU-CHEK, ACCU-CHEK MOBILE and ACCU-CHEK CONNECT are trademarks of Roche. © 2017 Roche Diabetes Care Limited. All rights reserved.
Roche Diabetes Care Limited, Charles Avenue, Burgess Hill, RH15 9RY, UK. Company registration number: 9055599
www.accu-chek.co.uk www.accu-chek.ie
There must be a better way
Unlike conventional blood
glucose monitoring systems,
the Accu-Chek Mobile meter
doesn't use individual test
strips and you don't need to
dispose of individual lancets
every time you test. No more
awkward moments spilling
test strips all over the place or
fiddling with separate lancets:
the all-in-one system uses a
cassette containing 50 tests
and the integrated fingerpricker takes
a user-friendly
drum containing 6 lancets.
Distinctly you...
Having a blood glucose meter that fits your needs, lifestyle and preference is
something you should be able to discuss with your Healthcare team to make sure
you can get the most out of your self-monitoring.
Those with green fingers
have long known that
smelling the roses and
pulling up weeds is good
for you, physically and
mentally. Even just looking
at a garden can give you a
positive boost.
So let's not beat around the
bush, interrupting your day
to test your blood glucose
can sometimes be a real
thorn in your side.
But knowing when your
blood glucose in a healthy
range and when it is not,
can help you to know when
to take the necessary steps
to nip problems in the bud.
By spending more time
in range, you'll have
more time to get back to
pottering around with
the things you love.