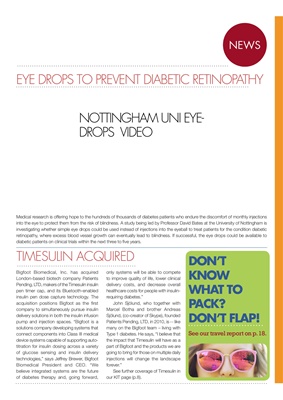 NEWS
DON'T
KNOW
WHAT TO
PACK?
DON'T FLAP!
See our travel report on p. 18.
EYE DROPS TO PREVENT DIABETIC RETINOPATHY
Medical research is offering hope to the hundreds of thousands of diabetes patients who endure the discomfort of monthly injections
into the eye to protect them from the risk of blindness. A study being led by Professor David Bates at the University of Nottingham is
investigating whether simple eye drops could be used instead of injections into the eyeball to treat patients for the condition diabetic
retinopathy, where excess blood vessel growth can eventually lead to blindness. If successful, the eye drops could be available to
diabetic patients on clinical trials within the next three to five years.
NOTTINGHAM UNI EYEDROPS VIDEO
Bigfoot Biomedical, Inc. has acquired
London-based biotech company Patients
Pending, LTD, makers of the Timesulin insulin
pen timer cap, and its Bluetooth-enabled
insulin pen dose capture technology. The
acquisition positions Bigfoot as the first
company to simultaneously pursue insulin
delivery solutions in both the insulin infusion
pump and injection spaces. "Bigfoot is a
solutions company developing systems that
connect components into Class III medical
device systems capable of supporting autotitration for insulin dosing across
a variety
of glucose sensing and insulin delivery
technologies," says Jeffrey Brewer, Bigfoot
Biomedical President and CEO. "We
believe integrated systems are the future
of diabetes therapy and, going forward,
TIMESULIN ACQUIRED
only systems will be able to compete
to improve quality of life, lower clinical
delivery costs, and decrease overall
healthcare costs for people with insulinrequiring
diabetes."
John Sjölund, who together with Marcel
Botha and brother Andreas Sjölund,
(co-creator of Skype), founded Patients
Pending, LTD, in 2010, is -- like many
on the Bigfoot team - living with Type
1 diabetes. He says, "I believe that the
impact that Timesulin will have as a
part of Bigfoot and the products we are
going to bring for those on multiple daily
injections will change the landscape
forever."
See further coverage of Timesulin in
our KIT page (p.8).