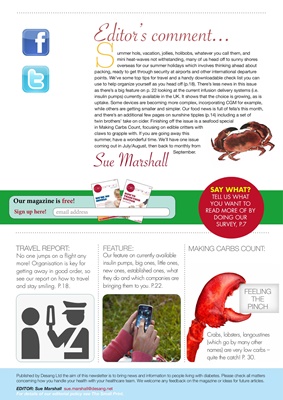 Published by Desang Ltd the aim of this newsletter is to bring news and information to people living with diabetes. Please check all matters
concerning how you handle your health with your healthcare team. We welcome any feedback on the magazine or ideas for future articles.
EDITOR: Sue Marshall sue.marshall@desang.net
For details of our editorial policy see The Small Print.
No one jumps on a flight any
more! Organisation is key for
getting away in good order, so
see our report on how to travel
and stay smiling. P.18.
Sue Marshall
Crabs, lobsters, langoustines
(which go by many other
names) have zero carbs -
quite the catch! P. 30.
Summer hols, vacation, jollies, holibobs, whatever you call them, and
mini heat-waves not withstanding, many of us head off to sunny shores
overseas for our summer holidays which involves thinking ahead to pack
ready to get through security at airports and other international departure points. We've
some top tips for travel and a handy downloadable check list you can use to help
organize yourself as you head off (p.18). There's less news in this issue as there's a big
feature on p. 22 looking at the current infusion delivery systems (i.e. insulin pumps)
currently available int he UK. It shows that the choice is growing as is uptake. Some
devices are becoming more complex, incorporating CGM for example, while others are
getting smaller and simpler. Our food news is full of fella's this month, and there's an
additional few pages on sunshine tipples (p.14) including a set of twin brothers' take
on cider. Finishing off the issue is a seafood special in Making Carbs
Count, focusing on edible critters with claws to grapple with.
If you are going away this summer, have a wonderful
time. We'll have one issue coming out in July/August,
then back to monthly from September.
Editor's comment...
ISSUE 30
MAGAZINE
DESANG
PLUS • New Products • Groovy giveaways • News (for T1 and T2)
WE'RE NO
ANGELS
But business as usual is best for
diabetics at Christmas
MAKING
CARBS COUNT:
CHESTNUTS ROASTING
ON OPEN FIRES
Our magazine is free!
Sign up here! email address
FEATURE:
Our feature on currently available
insulin pumps, big ones, little ones,
new ones, established ones, what
they do and which companies are
bringing them to you. P.22.
TRAVEL REPORT:
SAY WHAT?
TELL US WHAT
YOU WANT TO
READ MORE OF BY
DOING OUR
SURVEY, P.7
MAKING
CARBS
COUNT