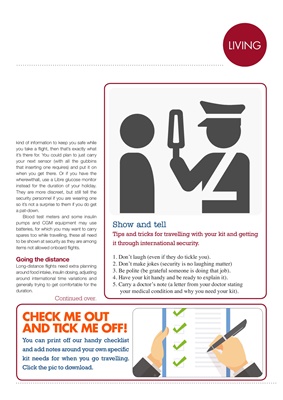 KITLIVING
Continued over.
Show and tell
Tips and tricks for travelling with your kit and getting
it through international security.
1. Don't laugh (even if they do tickle you).
2. Don't make jokes (security is no laughing matter)
3. Be polite (be grateful someone is doing that job).
4. Have your kit handy and be ready to explain it).
5. Carry a doctor's note (a letter from your doctor stating
your medical condition and why you need your kit).
You can print off our handy checklist
and add notes around your own specific
kit needs for when you go travelling.
Click the pic to download.
kind of information to keep you safe while
you take a flight, then that's exactly what
it's there for. You could plan to just carry
your next sensor (with all the gubbins
that inserting one requires) and put it on
when you get there. Or if you have the
wherewithall, use a Libre glucose monitor
instead for the duration of your holiday.
They are more discreet, but still tell the
security personnel if you are wearing one
so it's not a surprise to them if you do get
a pat-down.
Blood test meters and some insulin
pumps and CGM equipment may use
batteries, for which you may want to carry
spares too while travelling, these all need
to be shown at security as they are among
items not allowed onboard flights.
Going the distance
Long-distance flights need extra planning
around food intake, insulin dosing, adjusting
around international time variations and
generally trying to get comfortable for the
duration.
CHECK ME OUT
AND TICK ME OFF!