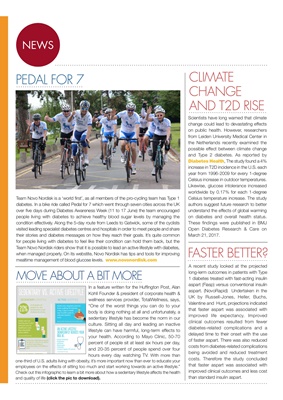 NEWS
In a feature written for the Huffington Post, Alan
Kohll Founder & president of corporate health &
wellness services provider, TotalWellness, says,
"One of the worst things you can do to your
body is doing nothing at all and unfortunately, a
sedentary lifestyle has become the norm in our
culture. Sitting all day and leading an inactive
lifestyle can have harmful, long-term effects to
your health. According to Mayo Clinic, 50-70
percent of people sit at least six hours per day,
and 20-35 percent of people spend over four
hours every day watching TV. With more than
one-third of U.S. adults living with obesity, it's more important now than ever to educate your
employees on the effects of sitting too much and start working towards an active lifestyle."
Check out this infographic to learn a bit more about how a sedentary lifestyle affects the health
and quality of life (click the pic to download).
PEDAL FOR 7
Team Novo Nordisk is a 'world first', as all members of the pro-cycling team has Type 1
diabetes. In a bike ride called Pedal for 7 which went through seven cities across the UK
over five days during Diabetes Awareness Week (11 to 17 June) the team encouraged
people living with diabetes to achieve healthy blood sugar levels by managing the condition
as best they can. Along the 5-day route from Leeds to Gatwick, some of the cyclists
visited leading specialist diabetes centres and hospitals in order to meet people and share
their stories and diabetes messages on how they reach their goals. It's quite common
for people living with diabetes to feel like their condition can hold them back, but the
Team Novo Nordisk riders show that it is possible to lead an active lifestyle with diabetes,
when managed properly. On its webstite, Novo Nordisk has tips and tools for improving
mealtime management of blood glucose levels. www.novonordisk.com
Scientists have long warned that climate
change could lead to devastating effects
on public health. However, researchers
from Leiden University Medical Center in
the Netherlands recently examined the
possible effect between climate change
and Type 2 diabetes. As reported by
Diabetes Health, The study found a 4%
increase in T2D incidence in the U.S. each
year from 1996-2009 for every 1-degree
Celsius increase in outdoor temperatures.
Likewise, glucose intolerance increased
worldwide by 0.17% for each 1-degree
Celsius temperature increase. The study
authors suggest future research to better
understand the effects of global warming
on diabetes and overall health status.
These findings were published in BMJ
Open Diabetes Research & Care on
March 21, 2017.
MOVE ABOUT A BIT MORE
A recent study looked at the projected
long-lerm outcomes in patients with Type
1 diabetes treated with fast-acting insulin
aspart (Fiasp) versus conventional insulin
aspart. (NovoRapid) Undertaken in the
UK by Russell-Jones, Heller, Buchs,
Valentine and Hunt, projections indicated
that faster aspart was associated with
improved life expectancy. Improved
clinical outcomes resulted from fewer
diabetes-related complications and a
delayed time to their onset with the use
of faster aspart. There was also reduced
costs from diabetes-related complications
being avoided and reduced treatment
costs. Therefore the study concluded
that faster aspart was associated with
improved clinical outcomes and less cost
than standard insulin aspart.
CLIMATE
CHANGE
AND T2D RISE
FASTER BETTER?