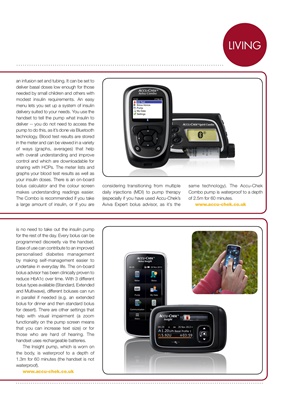 KITLIVING
an infusion set and tubing. It can be set to
deliver basal doses low enough for those
needed by small children and others with
modest insulin requirements. An easy
menu lets you set up a system of insulin
delivery suited to your needs. You use the
handset to tell the pump what insulin to
deliver -- you do not need to access the
pump to do this, as it's done via Bluetooth
technology. Blood test results are stored
in the meter and can be viewed in a variety
of ways (graphs, averages) that help
with overall understanding and improve
control and which are downloadable for
sharing with HCPs. The meter lists and
graphs your blood test results as well as
your insulin doses. There is an on-board
bolus calculator and the colour screen
makes understanding readings easier.
The Combo is recommended if you take
a large amount of insulin, or if you are
is no need to take out the insulin pump
for the rest of the day. Every bolus can be
programmed discreetly via the handset.
Ease of use can contribute to an improved
personalised diabetes management
by making self-management easier to
undertake in everyday life. The on-board
bolus advisor has been clinically proven to
reduce HbA1c over time. With 3 different
bolus types available (Standard, Extended
and Multiwave), different boluses can run
in parallel if needed (e.g. an extended
bolus for dinner and then standard bolus
for desert). There are other settings that
help with visual impairment (a zoom
functionality on the pump screen means
that you can increase text size) or for
those who are hard of hearing. The
handset uses rechargeable batteries.
The Insight pump, which is worn on
the body, is waterproof to a depth of
1.3m for 60 minutes (the handset is not
waterproof).
considering transitioning from multiple
daily injections (MDI) to pump therapy
(especially if you have used Accu-Chek's
Aviva Expert bolus advisor, as it's the
same technology). The Accu-Chek
Combo pump is waterproof to a depth
of 2.5m for 60 minutes.