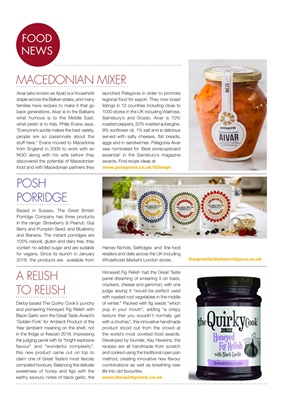 KIT
FOOD
NEWS
MACEDONIAN MIXER
Aivar (also known as Ajvar) is a household
staple across the Balkan states, and many
families have recipes to make it that go
back generations. Aivar is to the Balkans
what humous is to the Middle East,
what pesto is to Italy. Philip Evans says,
"Everyone's auntie makes the best variety,
people are so passionate about the
stuff here." Evans moved to Macedonia
from England in 2009 to work with an
NGO along with his wife before they
discovered the potential of Macedonian
food and with Macedonian partners they
launched Pelagonia in order to promote
regional food for export. They now boast
listings in 12 countries including close to
1000 stores in the UK including Waitrose,
Sainsbury's and Ocado. Aivar is 70%
roasted peppers, 20% roasted aubergine,
9% sunflower oil, 1% salt and is delicious
served with salty cheeses, flat breads,
eggs and in sandwiches. Pelagonia Aivar
was nominated for 'Best storecupboard
essential' in the Sainsbury's magazine
awards. Find recipe ideas at
POSH
PORRIDGE
Based in Sussex, The Great British
Porridge Company has three products
in the range: Strawberry & Peanut; Goji
Berry and Pumpkin Seed; and Blueberry
and Banana. The instant porridges are
100% natural, gluten and dairy free, they
contain no added sugar and are suitable
for vegans. Since its launch in January
2018, the products are available from
Harvey Nichols, Selfridges and fine food
retailers and delis across the UK including
Wholefoods Market, which has seven
stores in London.
thegreatbritishporridgeco.co.uk
A RELISH
TO RELISH
Derby-based The Quirky Cook's punchy
and pioneering Honeyed Fig Relish with
Black Garlic won the Great Taste Award's
'Golden Fork' for Ambient Product of the
Year (ambient meaning on the shelf, not
in the fridge or freezer) 2018. Impressing
the judging panel with its "bright explosive
flavour" and "wonderful complexity",
this new product came out on top to
claim one of Great Taste's most fiercely
competed honours. Balancing the delicate
sweetness of honey and figs with the
earthy savoury notes of black garlic, the
Honeyed Fig Relish had the Great Taste
panel dreaming of smearing it on toast,
crackers, cheese and gammon, with one
judge saying it "would be perfect used
with roasted root vegetables in the middle
of winter." Packed with fig seeds "which
pop in your mouth", adding "a crispy
texture that you wouldn't normally get
with a chutney", this innovative handmade
product stood out from the crowd at
the world's most coveted food awards.
Developed by founder, Kay Hawkins, the
recipes are all handmade from scratch
and cooked using the traditional open pan
method, creating innovative new flavour
combinations as well as breathing new
life into old favourites.