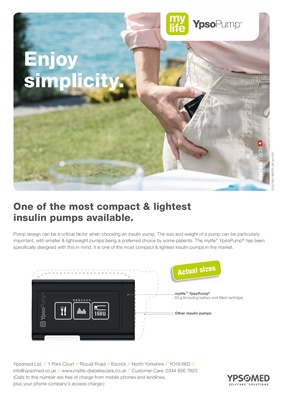 10157691-MSTR-UK-en/V01
Enjoy
simplicity.
Actual sizes
mylife™ YpsoPump®
83 g (including battery and filled cartridge)
Other insulin pumps
One of the most compact & lightest
insulin pumps available.
Pump design can be a critical factor when choosing an insulin pump. The size and weight of a pump can be particularly
important, with smaller & lightweight pumps being a preferred choice by some patients. The mylife™ YpsoPump® has been
specifically designed with this in mind, it is one of the most compact & lightest insulin pumps in the market.
Ypsomed Ltd. // 1 Park Court // Riccall Road // Escrick // North Yorkshire // YO19 6ED //
info@ypsomed.co.uk // www.mylife-diabetescare.co.uk // Customer Care: 0344 856 7820
(Calls to this number are free of charge from mobile phones and landlines,
plus your phone company's access charge.)