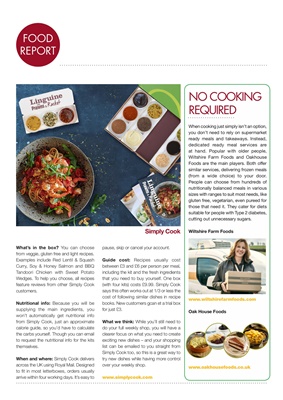 LIVINGLIVING
What's in the box? You can choose
from veggie, gluten free and light recipes.
Examples include Red Lentil & Squash
Curry, Soy & Honey Salmon and BBQ
Tandoori Chicken with Sweet Potato
Wedges. To help you choose, all recipes
feature reviews from other Simply Cook
customers.
Nutritional info: Because you will be
supplying the main ingredients, you
won't automatically get nutritional info
from Simply Cook, just an approximate
calorie guide, so you'd have to calculate
the carbs yourself. Though you can email
to request the nutritional info for the kits
themselves.
When and where: Simply Cook delivers
across the UK using Royal Mail. Designed
to fit in most letterboxes, orders usually
arrive within four working days. It's easy to
pause, skip or cancel your account.
Guide cost: Recipes usually cost
between £3 and £6 per person per meal,
including the kit and the fresh ingredients
that you need to buy yourself. One box
(with four kits) costs £9.99. Simply Cook
says this often works out at 1/3 or less the
cost of following similar dishes in recipe
books. New customers gcan et a trial box
for just £3.
What we think: While you'll still need to
do your full weekly shop, you will have a
clearer focus on what you need to create
exciting new dishes - and your shopping
list can be emailed to you straight from
Simply Cook too, so this is a great way to
try new dishes while having more control
over your weekly shop.
When cooking just simply isn't an option,
you don't need to rely on supermarket
ready meals and takeaways. Instead,
dedicated ready meal services are
at hand. Popular with older people,
Wiltshire Farm Foods and Oakhouse
Foods are the main players. Both offer
similar services, delivering frozen meals
(from a wide choice) to your door.
People can choose from hundreds of
nutritionally balanced meals in various
sizes with ranges to suit most needs, like
gluten free, vegetarian, even pureed for
those that need it. They cater for diets
suitable for people with Type 2 diabetes,
cutting out unnecessary sugars.
Wiltshire Farm Foods
Oak House Foods
NO COOKING
REQUIRED
Simply Cook
FOOD
REPORT