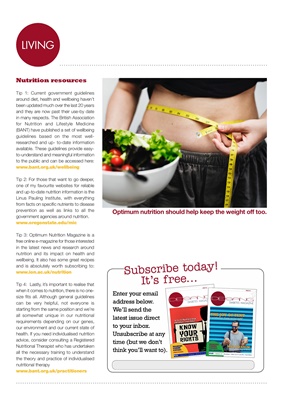 LIVINGLIVING
Nutrition resources
Tip 1: Current government guidelines
around diet, health and wellbeing haven't
been updated much over the last 20 years
and they are now past their use-by date
in many respects. The British Association
for Nutrition and Lifestyle Medicine
(BANT) have published a set of wellbeing
guidelines based on the most wellresearched
and up- to-date information
available. These guidelines provide easyto-understand and meaningful information
to the public and can be accessed here:
Tip 2: For those that want to go deeper,
one of my favourite websites for reliable
and up-to-date nutrition information is the
Linus Pauling Institute, with everything
from facts on specific nutrients to disease
prevention as well as links to all the
government agencies around nutrition.
Tip 3: Optimum Nutrition Magazine is a
free online e-magazine for those interested
in the latest news and research around
nutrition and its impact on health and
wellbeing. It also has some great recipes
and is absolutely worth subscribing to:
Tip 4: Lastly, it's important to realise that
when it comes to nutrition, there is no onesize fits
all. Although general guidelines
can be very helpful, not everyone is
starting from the same position and we're
all somewhat unique in our nutritional
requirements depending on our genes,
our environment and our current state of
health. If you need individualised nutrition
advice, consider consulting a Registered
Nutritional Therapist who has undertaken
all the necessary training to understand
the theory and practice of individualised
nutritional therapy
Optimum nutrition should help keep the weight off too.
ISSUE 88
DIABETES MAGAZINE
DESANG
MAKING
CARBS
COUNT:
SWEET POTATO
PLUS • Diabetes kit • Giveaways • News (for T1 and T2) • Food News
Access to blood test strips
and meters: your choice
PLUS:
Screen Time
(part 2): meters
Subscribe today!
Enter your email
address below.
We'll send the
latest issue direct
to your inbox.
Unsubscribe at any
time (but we don't
think you'll want to).
It's free...