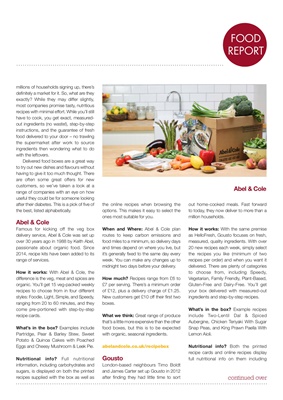 KIT
continued over
millions of households signing up, there's
definitely a market for it. So, what are they
exactly? While they may differ slightly,
most companies promise tasty, nutritious
recipes with minimal effort. While you'll still
have to cook, you get exact, measuredout ingredients
(no waste!), step-by-step
instructions, and the guarantee of fresh
food delivered to your door - no trawling
the supermarket after work to source
ingredients then wondering what to do
with the leftovers.
Delivered food boxes are a great way
to try out new dishes and flavours without
having to give it too much thought. There
are often some great offers for new
customers, so we've taken a look at a
range of companies with an eye on how
useful they could be for someone looking
after their diabetes. This is a pick of five of
the best, listed alphabetically.
Abel & Cole
Famous for kicking off the veg box
delivery service, Abel & Cole was set up
over 30 years ago in 1988 by Keith Abel,
passionate about organic food. Since
2014, recipe kits have been added to its
range of services.
How it works: With Abel & Cole, the
difference is the veg, meat and spices are
organic. You'll get 15 veg-packed weekly
recipes to choose from in four different
styles: Foodie, Light, Simple, and Speedy,
ranging from 20 to 60 minutes, and they
come pre-portioned with step-by-step
recipe cards.
What's in the box? Examples include
Partridge, Pear & Barley Stew, Sweet
Potato & Quinoa Cakes with Poached
Eggs and Cheesy Mushroom & Leek Pie.
Nutritional info? Full nutritional
information, including carbohydrates and
sugars, is displayed on both the printed
recipes supplied with the box as well as
the online recipes when browsing the
options. This makes it easy to select the
ones most suitable for you.
When and Where: Abel & Cole plan
routes to keep carbon emissions and
food miles to a minimum, so delivery days
and times depend on where you live, but
it's generally fixed to the same day every
week. You can make any changes up to
midnight two days before your delivery.
How much? Recipes range from £6 to
£7 per serving. There's a minimum order
of £12, plus a delivery charge of £1.25.
New customers get £10 off their first two
boxes.
What we think: Great range of produce
that's a little more expensive than the other
food boxes, but this is to be expected
with organic, seasonal ingredients.
abelandcole.co.uk/recipebox
Gousto
London-based neighbours Timo Boldt
and James Carter set up Gousto in 2012
after finding they had little time to sort
out home-cooked meals. Fast forward
to today, they now deliver to more than a
million households.
How it works: With the same premise
as HelloFresh, Gousto focuses on fresh,
measured, quality ingredients. With over
20 new recipes each week, simply select
the recipes you like (minimum of two
recipes per order) and when you want it
delivered. There are plenty of categories
to choose from, including Speedy,
Vegetarian, Family Friendly, Plant-Based,
Gluten-Free and Dairy-Free. You'll get
your box delivered with measured-out
ingredients and step-by-step recipes.
What's in the box? Example recipes
include Two-Lentil Dal & Spiced
Aubergine, Chicken Teriyaki With Sugar
Snap Peas, and King Prawn Paella With
Lemon Aioli.
Nutritional info? Both the printed
recipe cards and online recipes display
full nutritional info on them including
Abel & Cole
FOOD
REPORT