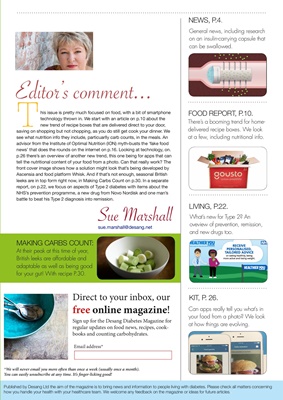 Published by Desang Ltd the aim of the magazine is to bring news and information to people living with diabetes. Please check all matters concerning
how you handle your health with your healthcare team. We welcome any feedback on the magazine or ideas for future articles..
General news, plus we have the
results of our reader survey about
repeat prescription services.
Sue Marshall
Thanks to all of you who took the recent survey which questioned
your experience of getting repeat prescriptions. We've some really
insightful statistics as a result, which you can see in the news
section on p.TK . In a separate report, we focus on aspects of Type 2 diabetes
with items on the NHS's prevention programme, and a new drug from Novo
Nordisk. The rest of the issue is pretty much focused on food! Seasonal British
leeks are in top form right now, so find out more in Making Carbs Count on
p.TK. Then there's an article on the new trend of recipe boxes that are delivered
direct to your door, saving on shopping but not chopping as you do still get
cook your dinner. We see what nutrition info they include, particuarlly carb
counts, on their contents. Going a bit more techy, on. p.TK there's an overview
of another new trend, this one being for apps that can tell the nutritional content
of your food from a photo. Can that really work? And if that's not enough, an
advisor from the Insiture of Optimal Nutrition (ION) myth-busts the 'fake food
news' that does the rounds on the internet.
Editor's comment...
NEWS, P.4.
What's new for Type 2? An
oveview of prevention, remission,
and new drugs too.
NEWS REPORT, P.20.
FOOD REPORT, P.26.
Can apps really tell you what's in
your food from a photo? We look
at how things are evolving.
KIT REPORT, P. 30.
At their peak at this time of year,
British leeks are affordable and
adaptable as well as being good
for your gut! With recipe P.36.
MAKING CARBS COUNT:
Direct to your inbox, our
free online magazine!
Sign up for the Desang Diabetes Magazine for
regular updates on food news, recipes, cookbooks
and counting carbohydrates.
Email address*
*We will never email you more often than once a week (usually once a month).
You can easily unsubscribe at any time. It's finger-licking good!
There's a booming trend for homedelivered recipe boxes. We
look
at a few, including nutritional info.