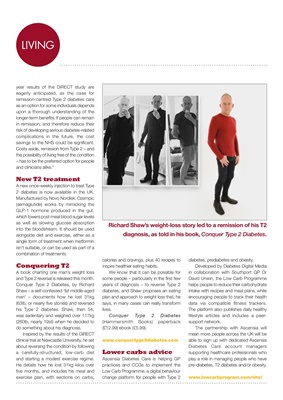 LIVINGLIVING
year results of the DiRECT study are
eagerly anticipated, as the case for
remission-centred Type 2 diabetes care
as an option for some individuals depends
upon a thorough understanding of the
longer-term benefits. If people can remain
in remission, and therefore reduce their
risk of developing serious diabetes-related
complications in the future, the cost
savings to the NHS could be significant.
Costs aside, remission from Type 2 - and
the possibility of living free of the condition
- has to be the preferred option for people
and clinicians alike."
New T2 treatment
A new once-weekly injection to treat Type
2 diabetes is now available in the UK.
Manufactured by Novo Nordisk, Ozempic
(semaglutide) works by mimicking the
GLP-1 hormone produced in the gut,
which lowers post-meal blood sugar levels
as well as slowing glucose absorption
into the bloodstream. It should be used
alongside diet and exercise, either as a
single form of treatment when metformin
isn't suitable, or can be used as part of a
combination of treatments.
Conquering T2
A book charting one man's weight loss
and Type 2 reversal is released this month.
Conquer Type 2 Diabetes, by Richard
Shaw - a self-confessed 'fat middle-aged
man' - documents how he lost 31kg
(63lb, or nearly five stones) and reversed
his Type 2 diabetes. Shaw, then 54,
was sedentary and weighed over 117kg
(260lb, nearly 19st) when he decided to
do something about his diagnosis.
Inspired by the results of the DiRECT
clinical trial at Newcastle University, he set
about reversing the condition by following
a carefully-structured, low-carb diet
and starting a modest exercise regime.
He details how he lost 31kg kilos over
five months, and includes his meal and
exercise plan, with sections on carbs,
calories and cravings, plus 40 recipes to
inspire healthier eating habits.
We know that it can be possible for
some people - particularly in the first few
years of diagnosis - to reverse Type 2
diabetes, and Shaw proposes an eating
plan and approach to weight loss that,
he says, in many cases can really can
transform lives.
Conquer Type 2 Diabetes
(Hammersmith Books) paperback
(£12.99) ebook (£5.99).
Lower carbs advice
Ascensia Diabetes Care is helping GP
practices and CCGs to implement the
Low Carb Programme, a digital behaviour
change platform for people with Type 2
Richard Shaw's weight-loss story led to a remission of his T2
diagnosis, as told in his book, Conquer Type 2 Diabetes.
diabetes, prediabetes and obesity.
Developed by Diabetes Digital Media
in collaboration with Southport GP Dr
David Unwin, the Low Carb Programme
helps people to reduce their carbohydrate
intake with recipes and meal plans, while
encouraging people to track their health
data via compatible fitness trackers.
The platform also publishes daily healthy
lifestyle articles and includes a peersupport network.
The partnership with Ascensia will
mean more people across the UK will be
able to sign up with dedicated Ascensia
Diabetes Care account managers
supporting healthcare professionals who
play a role in managing people who have
pre-diabetes, T2 diabetes and/or obesity.