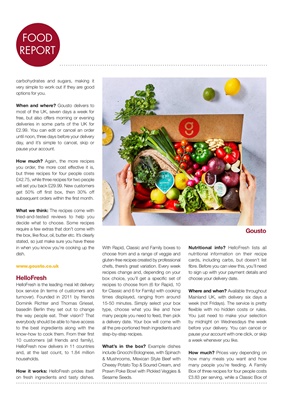 LIVINGLIVING
carbohydrates and sugars, making it
very simple to work out if they are good
options for you.
When and where? Gousto delivers to
most of the UK, seven days a week for
free, but also offers morning or evening
deliveries in some parts of the UK for
£2.99. You can edit or cancel an order
until noon, three days before your delivery
day, and it's simple to cancel, skip or
pause your account.
How much? Again, the more recipes
you order, the more cost effective it is,
but three recipes for four people costs
£42.75, while three recipes for two people
will set you back £29.99. New customers
get 50% off first box, then 30% off
subsequent orders within the first month.
What we think: The recipes come with
tried-and-tested reviews to help you
decide what to choose. Some recipes
require a few extras that don't come with
the box, like flour, oil, butter etc. It's clearly
stated, so just make sure you have these
in when you know you're cooking up the
dish.
HelloFresh
HelloFresh is the leading meal kit delivery
box service (in terms of customers and
turnover). Founded in 2011 by friends
Dominik Richter and Thomas Griesel,
basedin Berlin they set out to change
the way people eat. Their vision? That
everybody should be able to have access
to the best ingredients along with the
know-how to cook them. From their first
10 customers (all friends and family),
HelloFresh now delivers in 11 countries
and, at the last count, to 1.84 million
households.
How it works: HelloFresh prides itself
on fresh ingredients and tasty dishes.
With Rapid, Classic and Family boxes to
choose from and a range of veggie and
gluten-free recipes created by professional
chefs, there's great variation. Every week
recipes change and, depending on your
box choice, you'll get a specific set of
recipes to choose from (6 for Rapid, 10
for Classic and 6 for Family) with cooking
times displayed, ranging from around
15-50 minutes. Simply select your box
type, choose what you like and how
many people you need to feed, then pick
a delivery date. Your box will come with
all the pre-portioned fresh ingredients and
step-by-step recipes.
What's in the box? Example dishes
include Gnocchi Bolognese, with Spinach
& Mushrooms, Mexican Style Beef with
Cheesy Potato Top & Soured Cream, and
Prawn Poke Bowl with Pickled Veggies &
Sesame Seeds.
Nutritional info? HelloFresh lists all
nutritional information on their recipe
cards, including carbs, but doesn't list
fibre. Before you can view this, you'll need
to sign up with your payment details and
choose your delivery date.
Where and when? Available throughout
Mainland UK, with delivery six days a
week (not Fridays). The service is pretty
flexible with no hidden costs or rules.
You just need to make your selection
by midnight on Wednesdays the week
before your delivery. You can cancel or
pause your account with one click, or skip
a week whenever you like.
How much? Prices vary depending on
how many meals you want and how
many people you're feeding. A Family
Box of three recipes for four people costs
£3.83 per serving, while a Classic Box of
Gousto
FOOD
REPORT