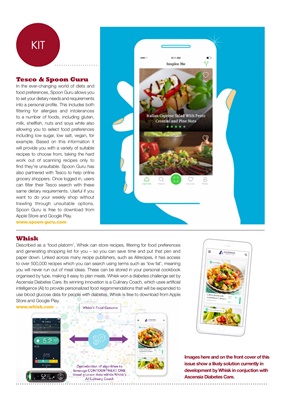 NEWS
Tesco & Spoon Guru
In the ever-changing world of diets and
food preferences, Spoon Guru allows you
to set your dietary needs and requirements
into a personal profile. This includes both
filtering for allergies and intolerances
to a number of foods, including gluten,
milk, shellfish, nuts and soya while also
allowing you to select food preferences
including low sugar, low salt, vegan, for
example. Based on this information it
will provide you with a variety of suitable
recipes to choose from, taking the hard
work out of scanning recipes only to
find they're unsuitable. Spoon Guru has
also partnered with Tesco to help online
grocery shoppers. Once logged in, users
can filter their Tesco search with these
same dietary requirements. Useful if you
want to do your weekly shop without
trawling through unsuitable options.
Spoon Guru is free to download from
Apple Store and Google Play.
Whisk
Described as a 'food platorm', Whisk can store recipes, filtering for food preferences
and generating shopping list for you - so you can save time and put that pen and
paper down. Linked across many recipe publishers, such as Allrecipes, it has access
to over 500,000 recipes which you can search using terms such as 'low fat', meaning
you will never run out of meal ideas. These can be stored in your personal cookbook
organised by type, making it easy to plan meals. Whisk won a diabetes challenge set by
Ascensia Diabetes Care. Its winning innovation is a Culinary Coach, which uses artificial
intelligence (AI) to provide personalized food recommendations that will be expanded to
use blood glucose data for people with diabetes. Whisk is free to download from Apple
Store and Google Play.