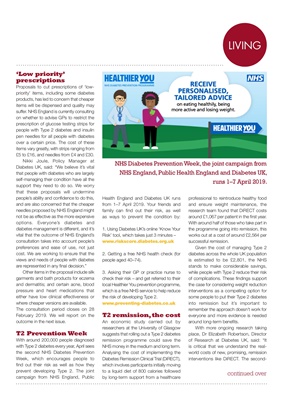 KITLIVING
continued over
'Low priority'
prescriptions
Proposals to cut prescriptions of 'lowpriority' items, including some diabetes
products, has led to concern that cheaper
items will be dispensed and quality may
suffer. NHS England is currently consulting
on whether to advise GPs to restrict the
prescription of glucose testing strips for
people with Type 2 diabetes and insulin
pen needles for all people with diabetes
over a certain price. The cost of these
items vary greatly, with strips ranging from
£5 to £16, and needles from £4 and £30.
Nikki Joule, Policy Manager at
Diabetes UK, said: "We believe it's vital
that people with diabetes who are largely
self-managing their condition have all the
support they need to do so. We worry
that these proposals will undermine
people's ability and confidence to do this,
and are also concerned that the cheaper
needles proposed by NHS England might
not be as effective as the more expensive
options. Everyone's diabetes and
diabetes management is different, and it's
vital that the outcome of NHS England's
consultation takes into account people's
preferences and ease of use, not just
cost. We are working to ensure that the
views and needs of people with diabetes
are represented in any final decision."
Other items in the proposal include silk
garments and bath products for eczema
and dermatitis; and certain acne, blood
pressure and heart medications that
either have low clinical effectiveness or
where cheaper versions are available.
The consultation period closes on 28
February 2019. We will report on the
outcome in the next issue.
T2 Prevention Week
With around 200,000 people diagnosed
with Type 2 diabetes every year, April sees
the second NHS Diabetes Prevention
Week, which encourages people to
find out their risk as well as how they
prevent developing Type 2. The joint
campaign from NHS England, Public
Health England and Diabetes UK runs
from 1-7 April 2019. Your friends and
family can find out their risk, as well
as ways to prevent the condition by:
1. Using Diabetes UK's online 'Know Your
Risk' tool, which takes just 3 minutes -
2. Getting a free NHS health check
(people aged 40¬-74).
3. Asking their GP or practice nurse to
check their risk - and get referred to their
local Healthier You prevention programme,
which is a free NHS service to help reduce
the risk of developing Type 2.
T2 remission, the cost
An economic study carried out by
researchers at the University of Glasgow
suggests that rolling out a Type 2 diabetes
remission programme could save the
NHS money in the medium and long term.
Analysing the cost of implementing the
Diabetes Remission Clinical Trial (DiRECT),
which involves participants initially moving
to a liquid diet of 800 calories followed
by long-term support from a healthcare
professional to reintroduce healthy food
and ensure maintain weight maintenance,
the research team found that DiRECT
costs around £1,067 per patient in the
first year. With around half of those who
take part in the programme going into
remission, this works out at a cost of
around £2,564 per successful remission.
Given the cost of managing Type 2
diabetes across the whole UK population
is estimated to be £2,801, the NHS
stands to make considerable savings,
while people with Type 2 reduce their risk
of complications. These findings support
the case for considering weight reduction
interventions as a compelling option for
some people to put their Type 2 diabetes
into remission but it's important to
remember the approach doesn't work for
everyone and more evidence is needed
around long-term benefits.
With more ongoing research taking
place, Dr Elizabeth Robertson, Director
of Research at Diabetes UK, said: "It
is critical that we understand the realworld costs of new,
promising, remission
interventions like DiRECT. The secondNHS Diabetes Prevention
Week, the joint campaign from
NHS England, Public Health England and Diabetes UK, runs
1-7 April 2019.