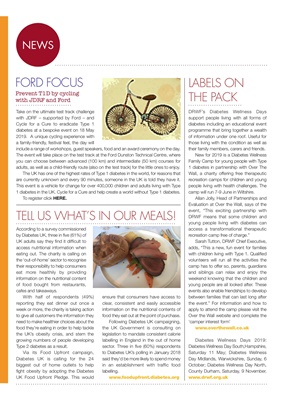 NEWS
FORD FOCUS
TELL US WHAT'S IN OUR MEALS!
Take on the ultimate test track challenge
with JDRF - supported by Ford - and
Cycle for a Cure to eradicate Type 1
diabetes at a bespoke event on 18 May
2019. A unique cycling experience with
a family-friendly, festival feel, the day will
include a range of workshops, guest speakers, food and an award ceremony on the day.
The event will take place on the test track at the Ford Dunston Technical Centre, where
you can choose between advanced (100 km) and intermediate (50 km) courses for
adults, as well as a child-friendly route (also on the test track) for the little ones to enjoy.
The UK has one of the highest rates of Type 1 diabetes in the world, for reasons that
are currently unknown and every 90 minutes, someone in the UK is told they have it.
This event is a vehicle for change for over 400,000 children and adults living with Type
1 diabetes in the UK. Cycle for a Cure and help create a world without Type 1 diabetes.
To register click HERE.
Prevent T1D by cycling
with JDRF and Ford
DRWF's Diabetes Wellness Days
support people living with all forms of
diabetes including an educational event
programme that bring together a wealth
of information under one roof. Useful for
those living with the condition as well as
their family members, carers and friends.
New for 2019 is a Diabetes Wellness
Family Camp for young people with Type
1 diabetes in partnership with Over The
Wall, a charity offering free therapeutic
recreation camps for children and young
people living with health challenges. The
camp will run 7-9 June in Wiltshire.
Allan Jolly, Head of Partnerships and
Evaluation at Over the Wall, says of the
event, "This exciting partnership with
DRWF means that some children and
young people living with diabetes can
access a transformational therapeutic
recreation camp free of charge."
Sarah Tutton, DRWF Chief Executive,
adds, "This a new, fun event for families
with children living with Type 1. Qualified
volunteers will run all the activities the
camp has to offer so, parents, guardians
and siblings can relax and enjoy the
weekend knowing that the children and
young people are all looked after. These
events also enable friendships to develop
between families that can last long after
the event." For information and how to
apply to attend the camp please visit the
Over the Wall website and complete the
'camper interest form'
Diabetes Wellness Days 2019:
Diabetes Wellness Day South,Hampshire,
Saturday 11 May; Diabetes Wellness
Day Midlands, Warwickshire, Sunday, 6
October; Diabetes Wellness Day North,
County Durham, Saturday, 9 November.
LABELS ON
THE PACK
According to a survey commissioned
by Diabetes UK, three in five (61%) of
UK adults say they find it difficult to
access nutritional information when
eating out. The charity is calling on
the 'out-of-home' sector to recognise
their responsibility to help consumers
eat more healthily by providing
information on the nutritional content
of food bought from restaurants,
cafes and takeaways.
With half of respondents (49%)
reporting they eat dinner out once a
week or more, the charity is taking action
to give all customers the information they
need to make healthier choices about the
food they're eating in order to help tackle
the UK's obesity crisis, and stem the
growing numbers of people developing
Type 2 diabetes as a result.
Via its Food Upfront campaign,
Diabetes UK is calling for the 24
biggest out of home outlets to help
fight obesity by adopting the Diabetes
UK Food Upfront Pledge. This would
ensure that consumers have access to
clear, consistent and easily accessible
information on the nutritional contents of
food they eat out at the point of purchase.
Following Diabetes UK campaigning,
the UK Government is consulting on
legislation to mandate consistent calorie
labelling in England in the out of home
sector. Three in five (60%) respondents
to Diabetes UK's polling in January 2018
said they'd be more likely to spend money
in an establishment with traffic food
labelling.