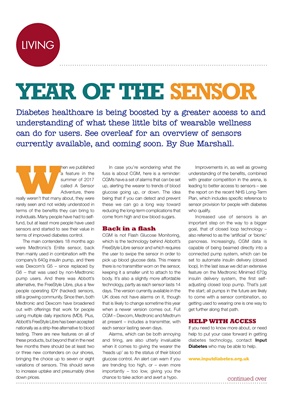 LIVINGLIVING
YEAR OF THE SENSOR
Diabetes healthcare is being boosted by a greater access to and
understanding of what these little bits of wearable wellness
can do for users. See overleaf for an overview of sensors
currently available, and coming soon. By Sue Marshall.
W
hen we published
a feature in the
summer of 2017
called A Sensor
Adventure, there
really weren't that many about, they were
rarely seen and not widely understood in
terms of the benefits they can bring to
individuals. Many people have had to selffund, but at
least more people have used
sensors and started to see their value in
terms of improved diabetes control.
The main contenders 18 months
ago were Medtronic's Enlite sensor,
back then mainly used in combination
with the company's 640g insulin pump,
and there was Dexcom's G5 - since
replaced by G6 - that was used by nonMedtronic
pump users. And there was
Abbott's alternative, the FreeStyle Libre,
plus a few people operating IDY (hacked)
sensors, still a growing community. Since
then, both Medtronic and Dexcom have
broadened out with offerings that work
for people using multiple daily injections
(MDI). Plus, Abbott's FreeStyle Libre has
been accepted nationally as a strip-free
alternative to blood testing. There are
new features on all of these products,
but beyond that in the next few months
there should be at least two or three new
contenders on our shores, brining the
choice up to seven or eight. This should
serve to increase uptake and presumably
drive down prices.
In case you're wondering what the
fuss is about CGM, here is a reminder:
CGMs have a set of alarms that can be set
up, alerting the wearer to trends of blood
glucose going up, or down. The idea
being that if you can detect and prevent
these we can go a long way toward
reducing the long-term complications that
come from high and low blood sugars.
Back in a flash
CGM is not Flash Glucose Monitoring,
which is the technology behind Abbott's
FreeStyle Libre sensor and which requires
the user to swipe the sensor in order to
pick up blood glucose data. This means
there is no transmitter worn on the sensor,
keeping it a smaller unit to attach to the
body. It's also a slightly more affordable
technology, partly as each sensor lasts 14
days. The version currently available in the
UK does not have alarms on it, though
that is likely to change sometime this year
when a newer version comes out. Full
CGM - Dexcom, Medtronic and Medtrum
at present - includes a transmitter, with
each sensor lasting seven days.
Alarms, which can be both annoying
and tiring, are also utterly invaluable
when it comes to giving the wearer the
'heads up' as to the status of their blood
glucose control. An alert can warn if you
are trending too high, or - even more
importantly - too low, giving you the
chance to take action and avert a hypo.
Improvements in as well growing
understanding of the benefits, combined
with greater competition in the arena, is
leading to better access to sensors - see
the report on the recent NHS Long-Term
Plan, which includes specific reference to
sensor provision for people with diabetes
who qualify.
Increased use of sensors is an
important step on the way to a bigger
goal, that of closed loop technology -
also referred to as the 'artificial' or 'bionic'
pancreas. Increasingly, CGM data is
capable of being beamed directly into a
connected pump system, which can be
set to automate insulin delivery (closed
loop). In the last issue we did an extensive
feature on the Medtronic Minimed 670g
insulin delivery system, the first selfadjusting closed loop pump. That's
just
the start; all pumps in the future are likely
to come with a sensor combination, so
getting used to wearing one is one way to
get further along that path.
HELP WITH ACCESS
If you need to know more about, or need
help to put your case forward in getting
diabetes technology, contact Input
Diabetes who may be able to help.
continued over